The World Surf League (WSL) Ron Jon Vans Pro Men's Qualifying Series (QS) 1,000 began in clean, two-to-three foot conditions at Alan Shepard Park. The Pro Junior event was off for the day as Rounds One and Two of the men were completed in their entirety — taking full advantage of the opening day's varying conditions on offer. A stacked field of competitors has been reduced from 80 to 32 and the majority of top seeds showed their dominance.
Noah Schweizer (USA) and Evan Geiselman (USA) opened Round Two with an incredible showdown that witnessed the two go wave for wave until the horn sounded. In the end, it was Schweizer who came out with the heat win — earning the day's highest single-wave score, an 8.17 (out of a possible 10) and heat total of 15.97 (out of a possible 20). Both hail from New Smyrna Beach, Fla., but Schweizer now finds himself a transplant of the West Coast and with a big year planned.
"It was nice to get going in Round One since I haven't surfed small waves in a long time — I've been getting a little spoiled lately," Schweizer said. "I surfed against Evan a lot in NSSA (National Scholastic Surfing Association) days so that was great splitting waves with him here. You just have to stay light on your feet in smaller waves like this and go for anything that's breaking. I missed the events in Australia since I had a broken wrist and went through a sponsor change so I'm looking to do those QS6,000s later this year and hopefully get into the QS10,000s."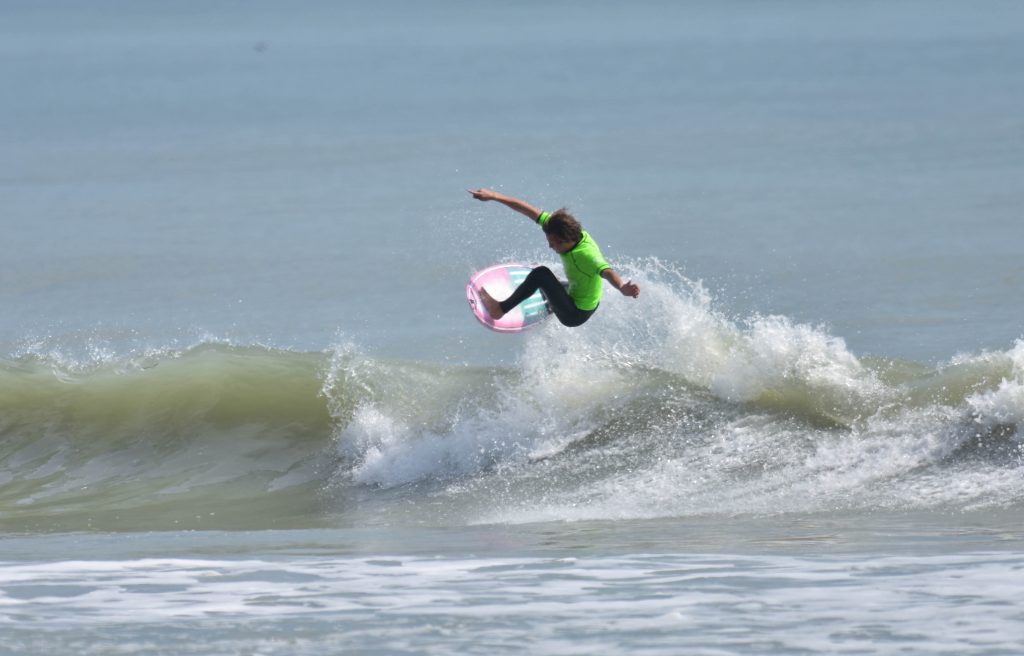 Noah Schweizer won both his Round One and Round Two heats. Photo: © WSL / John W. Ferguson
2016 North America Regional Champion Killian Garland (USA) is in the Ron Jon Vans Pro for the first time with hopes of defending his Title. Though Garland missed the Australian leg due to personal reasons, he has not lost sight of his goals to excel at the highest level of QS competition. The 29-year-old is off to a brilliant start here finding an excellent score of his own, an 8.00, on a wave that allowed him to unleash his powerful backhand multiple times. "I tried to catch whatever came my way, which I'm usually more selective, but out here if something comes you just have to take it," Garland said. "I've never competed at this event, but I've done other East Coast events and events here in Florida so I'm just trying to base everything off what I've done. I'm hoping to pace myself at the beginning of this year and build up toward the end of it, if I can do all the North America events I will. Also, really hope this year is the year I can place well in those bigger events, but the more you go at it the better you'll get."
San Clemente, Calif., surfer Kevin Schulz (USA) flowed through his opening Round Two heat with an impressive showcase of maneuvers in the smaller conditions. Schulz awaits his breakthrough at the QS level and proved he's a certified threat at this event with a solid 14.33 heat total. "I've been coming here for three years now and that was the first heat I've made — I'm psyched," Schulz said. "My board felt great under my feet and I knew if I just got the waves then I'd be able to post a good score. Got kind of lucky with the chip-in to that first wave and got a few good turns off, but then was able to back it up right away. I'm coming into this year wanting to have fun more than anything and that's when I seem to perform my best. I've just focused on filming and photos this year, I didn't even do the Australian events, which has really helped to get my head in the right place so I'm excited for this year."
As competition headed into the late afternoon, Yuji Nishi (JPN) was able to still find two near-excellent scores amid the changing conditions. The onshore wind prevailed and provided more opportunity with the mix of swell already in the water — something Nishi took full advantage of posting a 7.83 and 7.33. After his appearance at the World Junior Championships, the Japenese junior is spearheading the 2017 season in full force. "This is the second QS event I've done this year and I'm really excited to be here," Nishi said. "I'm still on the Junior Tour, but this event is not in my region so I'm just focusing on the QS. I didn't do well at the World Juniors, but that experience was great and helped my surfing. I can't wait for my next heat."
Event organizers will meet tomorrow morning at 7:30 a.m. EST to determine an 8:00 a.m. EST start for either the men's or women's Pro Junior — the Men's QS1,000 will be off for the day. Go to www.worldsurfleague.com , or download the WSL App, for live scoring and daily updates from the Ron Jon Vans Pro and Pro Junior.
Ron Jon Vans Pro Men's QS1,000 Round One Results:
Heat 1: Noah Schweizer (USA) 15.97, Evan Geiselman (USA) 14.27, Nick Marshall (USA) 10.70, Jacob Szekely (USA) 8.33
Heat 2: Kairi Noro (JPN) 12.90, Tommy Coleman (USA) 10.23, Shaun Burns (USA) 7.97, Liam Gloyd (USA) 6.40
Heat 3: Kevin Schulz (USA) 14.33, John Mel (USA) 11.20, Tommy McKeown (USA) 9.03, Brady McKenzie (USA) 2.40
Heat 4: Ryland Rubens (USA) 12.87, Kei Kobayashi (USA) 12.77, Taro Watanabe (USA) 10.27, Pedro Todaro (BRA) 5.67
Heat 5: Kilian Garland (USA) 15.17, Daniel Glenn (USA) 11.23, Jairo Perez (CRI) 8.77, Parker Cohn (USA) 7.20
Heat 6: Tomas King (CRI) 6.70, Jackson Butler (USA) 6.60, Adam Auffay (MTQ) 6.13, Spencer Bridges (USA) 6.00
Heat 7: Josh Burke (BRB) 8.37, Chase Modelski (USA) 7.27, Sean Woods (USA) 5.50, Brandon Todd (USA) 3.97
Heat 8: Sebastian Mendes (USA) 8.50, Braden Jones (USA) Zander Venezia (BRB) 5.21
Heat 9: Jon Azuchi (JPN) 9.37, Mason Ho (HAW) 8.46, Micha Cantor (USA) 8.07, Aldo Chirinos (CRI) 7.37
Heat 10: Che Allan (BRB) 14.00, Nolan Rapoza (USA) 9.93, Ben Coffey (USA) 9.10, Michael Kapica (USA) 4.30
Heat 11: Chauncey Robinson (USA) 10.30, Cole Houshmand (USA) 9.93, Austin Neumann (USA) 5.00, Sean Foerster (USA) 4.30
Heat 12: Yuji Nishi (JPN) 15.16, Tyler Gunter (USA) 11.50, Malaki Martinez (CRI) 7.33, Logan Landry (USA) 3.24
Heat 13: Cam Richards (USA) 12.33, Jacob Burke (BRB) 9.10, Adrian Garcia (PER) 8.13, Crosby Colapinto (USA) 7.13
Heat 14: Gabriel Farias (BRA) 12.17, Michel Flores (BRA) 9.93, Jeremy Carter (USA) 7.94, Tad McCardell (USA) 6.30
Heat 15: Jordy Collins (USA) 12.16, Stevie Pittman (USA) 10.47, Cobie Gittner (USA) 8.33, Evan Brownell (USA) 4.77
Heat 16: Luke Gordon (USA) 11.07, Christopher Kervin (USA) 8.17, Micah Crozier (USA) 7.90, Knox Harris (USA) 4.06
Ron Jon Vans Pro Men's QS1,000 Round One Results:
Heat 1: Noah Schweizer (USA) 10.93, Liam Gloyd (USA) 9.27, Sam Duggan (USA) 8.24, Nicolas Chalonec (MTQ) 4.80
Heat 2: Tommy McKeown (USA) 7.60, Taro Watanabe (USA) 7.40, David Economos (USA) 6.13, John Alburger (USA) 0.00
Heat 3: Daniel Glenn (USA) 9.60, Jackson Butler (USA) 8.47, William Hedleston (USA) 5.73, Shane Kertesz (USA) 2.64
Heat 4: Chase Modelski (USA) 11.77, Sebastian Mendes (USA) 8.17, Dylan Hord (USA) 7.37, Peter Lambert (USA) 0.87
Heat 5: Aldo Chirinos (CRI) 11.33, Nolan Rapoza (USA) 10.36, Bo Raynor (USA) 6.83, Collin Shinn (USA) 4.56
Heat 6: Sean Foerster (USA) 13.83, Malaki Martinez (CRI) 12.63, Elijah Fox (HAW) 10.90, Namor Cayres (BRA) 6.20
Heat 7: Crosby Colapinto (USA) 9.93, Jeremy Carter (USA) 8.94, Liam Murray (USA) 6.57, Riley Morgan (USA) 5.77
Heat 8: Evan Brownell (USA) 11.33, Micah Crozier (USA) 9.13, Logan Hayes (USA) 9.00, Gustavo Arraujo (BRA) 8.84
[template id="1199″]