BATHSHEBA, Barbados (Saturday, November 12, 2016) – The World Surf League Soup Bowl Pro Junior, the last event of the North America Junior Tour schedule, crowned Che Allan (BRB) and Leilani McGonagle (CRI) the 2016 Champions after an incredible final day of action. Two-to-three foot conditions provided competitors ample opportunity for scoring potential throughout the day and intense action followed.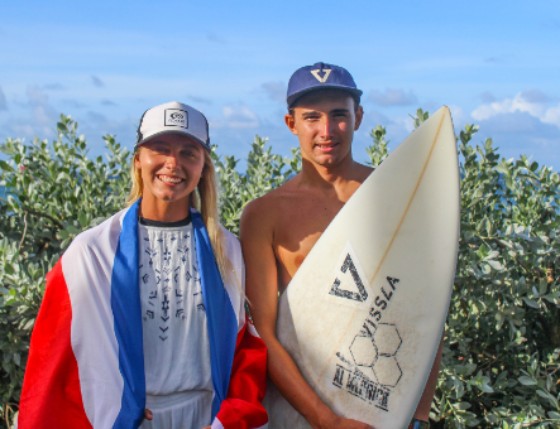 With all results accounted for, the rankings are set in stone and Allan's win punched his ticket to World Junior Champinships alongside Nolan Rapoza (USA), Kei Kobayashi (USA), and Jake Marshall (USA). McGonagle's victory also puts her to the top of the rankings and, alongside Alyssa Spencer (USA), will head to the WJC as the Top 2 women from the North America region.
Allan's win marks the first time a Bajan has taken down the Soup Bowl Pro Junior and did so in amazing fashion over an in-form field of Rapoza, Marshall, and Chauncey Robinson (USA). The backhander used his local knowledge to the utmost advantage and found the diamonds in the rough for a massive victory after taking an early lead. Allan needed at least a runner-up finish to find a place in the Top 4 and in doing so earned his first-ever WSL Junior Tour victory.
"To be the first Bajan to win the Pro Junior event here is just unbelievable, I couldn't have dreamt this," Allan said. "I just can't believe it. I wasn't really focusing on the numbers until just before the Final when my dad told me I needed to win or get runner-up. Knowing that, I just wanted to go out there and get total control of the heat right away. I'm just so happy to come away with a win."
"Knowing this wave is such a big advantage," Allan continued. "It's not that big today but you could've definitely pulled a sneaky move and gone up a bit deeper in the lineup — just a couple of little tricks I know about this place that definitely played a big role."
Fellow goofyfooter Nolan Rapoza's (USA) remarkable year came to an end with a third runner-up finish to cap off 2016 as the North America Junior Men's Regional Champion. After a breakout day one of competition, Rapoza finished off strong and kept Luke Gordon's (USA) run for WJC qualification at bay in the Semifinals before doing battle with Allan again in the Final.
"It's been a blast this whole year after I came so close last year and I've never had this opportunity before so I'm definitely stoked," Rapoza said. "I was constantly working with my boards out here because you never know what kind of board you'll need. Positioning is also a big factor. I made a Final here one year and sat too wide the whole heat so that was an important change in strategy. It should help my confidence a lot just surfing smarter this year through each event so I'm hoping it translates to the future for me."
Before the incredible ending to a crucial men's event ended, Leilani McGonagle (CRI) was hoisted up for the first time in her WSL Junior Tour career. The Costa Rican took on a talent-stacked Final with Maddie Peterson (USA), Samantha Sibley (USA), and Bethany Zelasko (USA) with both Peterson and Zelasko having a chance to take the No. 2 spot from her.
Midway through the Final, Peterson took a prolific lead and looked to be on her way to securing a spot to the WJC. But, with just three minutes remaining, McGonagle reclaimed the lead and did not falter to claim a vital win. The victory pushed her above Alyssa Spencer (USA) and claimed the North America Junior Women's Regional title for her own.
"I'm just stoked and beyond happy with that win when I needed it the most," McGonagle said. "Maddie [Peterson] was surfing so well and kept fighting back — I was so stoked to get that last wave and get the score. All these girls were ripping and now I'm just so excited to represent my country at Worlds."
"In my last heat I had trouble staying patient waiting for a good wave because you never know which wave is going to bowl up on the inside," McGonagle continued. "I felt that if I just waited for a good wave it would come and when it did I just wanted to give two big hits for a score. I can't believe it. I can't even process everything fully just yet. I'm so stoked right now and know it will all sink in eventually, but I'm just going to enjoy all of this moment."
It was a bittersweet ending to a Junior Tour career for runner-up Peterson — earning her best-ever result today. The final minutes stretched just too far for the New Jersey-native, who now prepares for a career change to the Qualifying Series (QS).
"Going through my head now I think it's just disappointing to come that close knowing I only needed a bigger score," Peterson said. "I think I did the best with what was put in front me. Just the whole learning process of it all during the Junior Tour has been amazing. To be in a place like Barbados that I consider one of my favorites and to make a Final here again — this is the highlight of it all."
The World Junior Championships will begin January 4 – 13, 2017 at Kiama, New South Wales, Australia to determine who will be this year's men's and women's champions.
For more information, go to www.worldsurfleague.com, or download the WSL App.
Soup Bowl Pro Junior Men's Final Result:
1 – Che Allan (BRB)   13.17                 1,000 points  $2,500
2 – Nolan Rapoza (USA)  13.00          750 points     $1,500
3 – Jake Marshall (USA)   11.24         560 points     $1,100
4 – Chauncey Robinson (USA) 9.53   525 points     $900
North America Men's Junior Tour Top 4 Rankings:
1. Nolan Rapoza (USA)  3,775 points
2. Kei Kobayshi (USA)    2,680 points
3. Jake Marshall (USA)  2,430 points
4. Che Allan (BRB)          2,290 points
Soup Bowl Pro Junior Women's Final Result:
1 – Leilani McGonagle (CRI) 11.24  1,000 points  $900
2 – Maddie Peterson (USA) 11.17   750 points     $400
3 – Samantha Sibley (USA)  10.93    560 points     $160
4 – Bethany Zelasko (USA)   7.13    525 points     $140
North American Women's Junior Tour Top 2 Rankings:
1. Leilani McGonagle (CRI)  2,170 points
2. Alyssa Spencer (USA)      2,050 points
Soup Bowl Pro Junior Men's Semifinal Results:
SF 1: Che Allan (BRB) 11.83, Nolan Rapoza (USA) 10.13, Luke Gordon (USA) 8.36, Adam Auffay (MTQ) 7.03
SF 2: Jake Marshall (USA) 11.86, Chauncey Robinson (USA) 11.20, Kei Kobayashi (USA) 9.37, Micky Clarke (USA) 8.33
Soup Bowl Pro Junior Women's Semifinal Results:
SF 1: Maddie Peterson (USA) 12.77, Bethany Zelasko (USA) 12.00, Kirra Pinkerton (USA) 11.06, Sophie Falzone (USA) 7.40
SF 2: Leilani McGonagle (CRI) 11.20, Samantha Sibley (USA) 10.57, Tiare Thompson (USA) 10.27, Rachel Presti (USA) 7.36
Tags: barbados, competition, contest, pro junior, soup bowl, wsl