The history-making World Surf League (WSL) Barbados Surf Pro Qualifying Series (QS) 3,000 kicked off a great day of competition from both the men and women at Drill Hall Beach. Men's Round One, along with women's Round One and Two, were contested in two-to-three foot windswell that offered bountiful scoring opportunity throughout the day. Big performances followed from both the men and women to make this groundbreaking day in Barbados one to remember.
Luke Marks (USA) raised the bar of what was to be expected with an 8.50 (out of a possible 10), but it was Cole Houshmand (USA) who unleashed on Drill Hall Beach with his powerful forehand and posted the day's highest heat total of 15.73 (out of a possible 20). The two Americans had a big final exchange, but it was Houshmand who came out on top. The San Clemente, California-native had a tough result at the Martinique Pro just days ago and looks for a rebound here.
"It was really fun being in that heat with the tide push giving us some good waves and didn't want to push it too hard, but just go with the flow," Houshmand said. "I wanted to stay relaxed and just wait for the best waves so I was stoked it worked out. The waves back in Martinique were incredible, but I just didn't get the result I wanted and I took that fire into this event. I've been staying with Che [Allan] and we've just been surfing everyday to get ready for this contest so it's been really good. I'm really looking forward to the rest of this contest."
Ty Watson (AUS) lit up the trickier morning conditions with an impressive backhand performance to earn an 8.00 and backed it up with a 7.33. The South Coast Australian competitor hasn't set foot on the island of Barbados until arriving for this event and showed his adaptability right away. "I've just done Martinique so I thought I'd come down and do both of them — it's so incredible here," Watson said. "It's different here in terms of waves being smaller and you just have to find the best ones then do what you have to do on them. I did a few events back at home to start the year and went okay so thought I'd start doing a few more this year. It's awesome to have a QS3,000 in such an amazing place with good vibes so I'm hoping to enjoy that and make a few heats."
Round One, Heat 14 was an all goofyfooted, North America affair with Colt Ward (USA) pitted against 2016 North America Junior Tour Champion Nolan Rapoza (USA) and an in-form Ryland Rubens (USA). But, it was Ward who found the better opportunities throughout the heat and capitalized with big maneuvers in the critical sections of each wave. The 20-year-old has big ambitions for 2017 and, with a string of QS3,000s to contest in, wants to take full advantage. "This is my first time back since I did the Pro Junior event two years ago and I just love it here," Ward said. "I'd love to come back every year for this event if they keep putting it on. I made a couple of heats in Martinique, but came over here early and just got the good vibes rolling. I was pretty stoked to see I had a three-man heat, just because it makes priority rotation even better, but to have a goofy battle with two of my friends was great."
"It's great that they have two back-to-back QS3,000s, it's an opportunity for a lot of points," Ward added. "Then right after this I'll get home for five days then head to Portugal for the QS3,000 there so this is a pretty important leg — especially for me trying to get into the QS10,000s and also better seeds into the QS6,000s."
After the men finished their Round One match ups, the women's event immediately followed with Rounds One and Two before opening day was completed. Brisa Hennessy (HAW) dominated her Round One debut with an excellent 8.83, the highest single-wave score of the day, and immaculate 16.50 heat total — also the day's best. The South Shore, Oahu native has her local break to train on and it showed brilliantly here at Drill Hall Beach. The 17-year-old just began her plans for a full QS schedule along with the Junior Tour and will be looking to for a big result here.
"There's some diamonds in the rough out there, you just have to keep busy and find them," Hennessy said. "It's gorgeous here, I haven't been to this side of the island yet and it's just amazing. I've been practicing a lot of lefts back home like Kewalos, it's a little longer and mushier than home, but I'm happy to get some training in there. This will be my first year doing the whole QS for a learning experience and hopefully grow through them. It's in the middle of a CT right now so I'm kind of stoked not to see all those girls here and I'm really happy this was the spot chosen for a good size event like this."
Rachel Presti (USA) put on a show of her own with two excellent scores on her dynamic backhand. The Floridian talent put her knowledge of the break to use and waited patiently for her rides. Now, she hopes to turn that experience into a QS result. "That was so great, I was just trying to get a good wave at the beginning and then back it up really fast," Presti said. "It was a bit difficult to stay in rhythm with some of the lulls out there in our heat, but this is my favorite place and I love surfing here. Surfing here before helps a lot because you know where to sit and what waves to look at. It's nice to be competing in a QS3,000 after coming up through the QS1,000s and making some heats. I think it's great to be at an event like this where making even one or two heats gets you more points than having to make it to the final of a QS1,000. "
Malibu, California's Frankie Harrer (USA) found an 8.17 to begin her campaign here after winning her first QS event at the Wahine Pipe Pro just two weeks ago. Harrer took that confidence and put it on display here with a commanding performance that left her opponents in a combination situation when the final horn sounded. "I was a little nervous trying to get some scores on the board at the start, but that allowed me to open up a bit more at the end which was great," Harrer said. "I don't think I've ever surfed a wave on my forehand that's open like this so it's really cool. Barbados is such a good place and I haven't been here since the Pro Junior at Soup Bowl — it feels great to be back here. I haven't actually been on this side so it's a cool contrast to see both. I'm excited this contest came up because we would've had a break after the contest in Hawaii, so it's good to keep moving and get my flow going for the year."
Event organizers will reconvene for tomorrow's 7:30 a.m. EDT call to determine an 8:00 a.m. start for either men's Round Two or women's Round Three. Tune in live tomorrow at 8:00 a.m. to witness more action and for more information on the Barbados Surf Pro QS3,000, go to www.worldsurfleague.com or download the WSL App to receive updates on your mobile device.
Barbados Surf Pro QS3,000 Men's Round One Results:
Heat 1: Peterson Crisanto (BRA) 13.40, Ethan Egiguren (EUK) 10.54, Micky Clarke (USA) 7.83
Heat 2: Pedro Neves (BRA) 13.20, Jordy Collins (USA) 10.20, Jake Kelley (USA) 9.46
Heat 3: Ty Watson (AUS) 15.33, Harrison Martin (AUS) 11.50, Zander Venezia (BRB) 10.43
Heat 4: Mateus Herdy (BRA) 13.76, Gabriel Andre (BRA) 12.97, Luke Gordon (USA) 10.23, Logan Landry (CAN) 7.26
Heat 5: Mikey Wright (AUS) 13.50, Gatien Delahaye (FRA) 11.00, Christopher Kervin (USA) 4.83
Heat 6: Jacome Correia (PRT) 13.40, Shaun Burns (USA) 10.10, Imaikalani deVault (HAW) 8.73, Sean Foerster (CAN) 7.23
Heat 7: Yage Araujo (BRA) 11.84, Kaito Ohashi (JPN) 11.43, Kairi Noro (JPN) 8.83, Axe Garrett (BRB) 7.34
Heat 8: Elliot Paerata-Reid (NZL) 14.00, Cobie Gittner (USA) 10.50, Yuji Nishi (JPN) 8.84, Dylan Hord (USA) NS
Heat 9: Cole Houshmand (USA) 15.73, Luke Marks (USA) 12.90, Yuji Mori (JPN) 11.06, Eithan Osborne (USA) 9.20
Heat 10: Daiki Tanaka (JPN) 11.37, Daniel Edghill (BRB) 11.33, Heremoana Lucianai (PYF) 11.13, Jonathan Reese (BRB) 7.90
Heat 11: Weslley Dantas (BRA) 14.23, Chris Michalak (AUS) 12.07, Louis Gillick (AUS) 11.16, Evan Moll (BRB) 9.40
Heat 12: Shuji Nishi (JPN) 12.90, Paul Cesar Distinguin (FRA) 11.23, Chauncey Robinson (USA) 9.93, Chase Modelski (USA) 8.90
Heat 13: Gabriel Farias (BRA) 13.50, Victor Mendes (BRA) 11.60, David Dorne (GLP) 7.36, Adrian Garcia (PER) 7.17
Heat 14: Colt Ward (USA) 13.73, Ryland Rubens (USA) 12.43, Nolan Rapoza (USA) 12.14, Tomas Lopez Moreno (ARG) NS
Heat 15: Knox Harris (USA) 13.50, Jared Hickel (AUS) 13.27, Tomas King (CRI) 10.93, Jackson De Gruchy (CAN) 6.77
Heat 16: Jacob Burke (BRB) 13.10, Fraser Dovell (AUS) 11.44, Cristobal De Col (PER) 10.37, Michel Flores (BRA) 8.16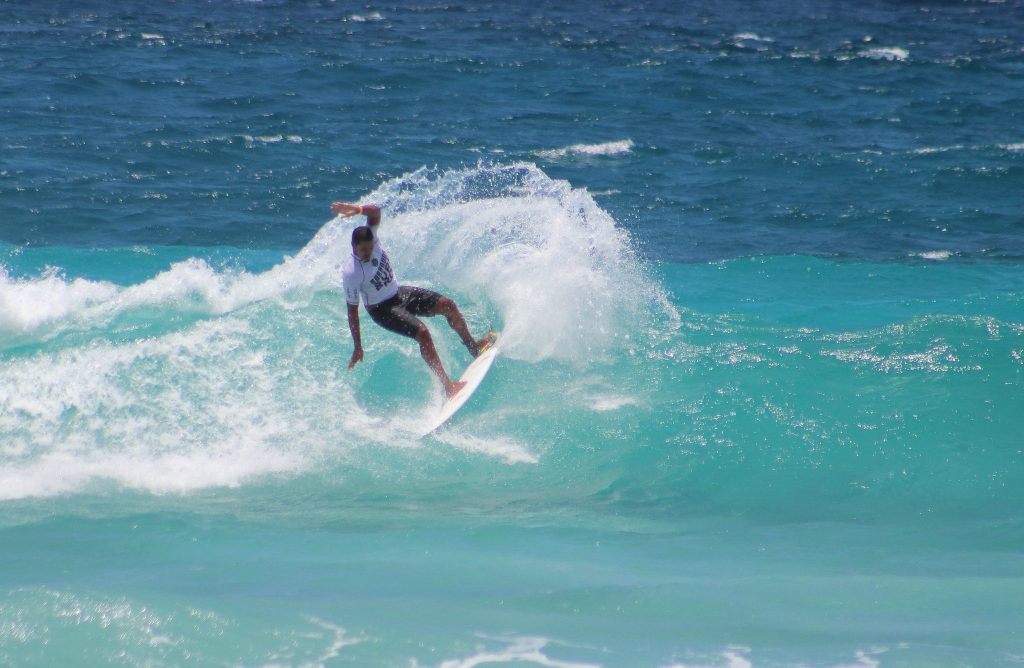 Barbados Surf Pro QS3,000 Women's Round Two Results:
Heat 1: Zoe McDougall (HAW) 12.37, Maddie Peterson (USA) 11.33, Emily Gussoni (CRI) 10.74, Autumn Hays (USA) 6.46
Heat 2: Rachel Presti (USA) 16.23, Nicole Fulford (USA) 8.83, Ainara Aymat (EUK) 8.66, Mainei Kinimaka (HAW) 7.70
Heat 3: Frankie Harrer (DEU) 13.67, Kloee Openshaw (USA) 6.77, Bethany Zelasko (USA) 6.47, Elle Sampiere (USA) 5.17
Heat 4: Brittany Penaroza (HAW) 12.10, Samantha Sibley (USA) 10.27, Nao Omura (JPN) 13.66, Dax McGill (HAW) 3.60
Heat 5: Brisa Hennessy (HAW) 16.50, Alyssa Spencer (USA) 11.87, Shelby Detmers (USA) 7.97, Hannah Blevins (USA) 4.60
Heat 6: Tanika Hoffman (ZAF) 11.40, Nagisa Tashiro (JPN) 8.76, Kayla Durden (USA) 7.50, Brooke Daigneault (USA) 6.16
Heat 7: Leilani McGonagle (CRI) 12.97, Cassidy McClain (USA) 10.54, Eliza Greene (AUS) 9.57, Tiare Thompson (USA) 9.47
Heat 8: Bailey Nagy (HAW) 13.10, Kayla Coscino (USA) 10.53, Denver Young (AUS) 6.53, Kaliegh Gilchrist (USA) 4.94
Barbados Surf Pro QS3,000 Women's Round One Result:
Heat 1: Samantha Sibley (USA) 13.83, Hannah Blevins (USA) 7.33, Molly Kirk (USA) 7.16

Tags: barbados surf pro, caribbean, qs, qualifying series, world surf league, wsl