The World Paddle Association, Uptown Columbus, Inc. and Salt Life will offer $15,000 in prize money and points toward the Salt Life Cup
COLUMBUS, Ga. (May 19, 2017) – Salt Life will present the 2017 WPA Paddle Championships in conjunction with Uptown Columbus, Inc., June 3-4, 2017, in Columbus, Georgia. The WPA Paddle Championships is the third stop on the World SUP Tour, with events in Puerto Rico, China, Japan, Korea and more. The event will offer $15,000 in prize money to overall division finishers and points toward the Salt Life Cup/WPA National Race Series. More information, including registration and the full event schedule are available here.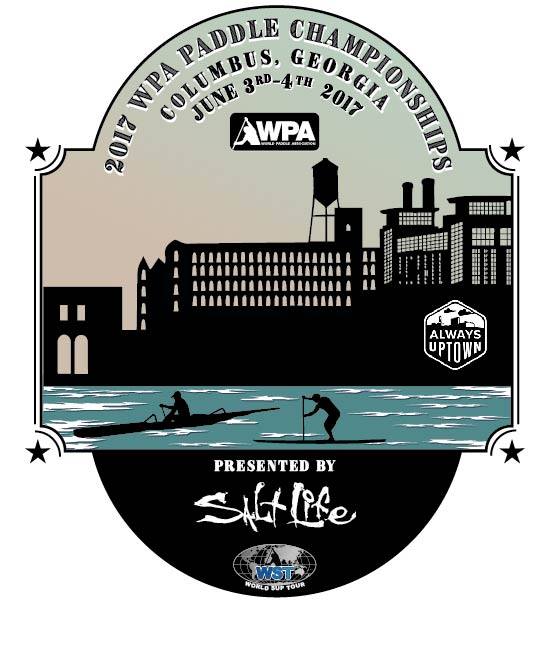 The WPA Paddle Championships is part of a jam-packed weekend of events for the whole family in Columbus. On Friday, June 2, Salt Life will kick off the weekend with a grand opening party at their newest retail store in downtown Columbus.
"We are proud to present the WPA Paddle Championships just a few blocks from our company headquarters and newest retail store on the beautiful Chattahoochee River," says Salt Life president Jeff Stillwell. Paddle boarding is a growing sport that is accessible to people of all ages and abilities, from world class athletes to novices who love to 'live the Salt Life.'"
WPA president Byron Kurt adds, "The WPA is excited to bring the World SUP Tour and our paddling event to a very unique setting in Columbus on the Chattahoochee River, known as one of the top locations for SUP, whitewater rafting and a variety of other water sports."
"We are thrilled to be hosting the WPA Paddle Championships for the first time in Uptown Columbus," says Rebecca Zajac, VP of Uptown Columbus, Inc. "We believe this weekend will be the highlight of the year for residents and tourists in Columbus, Georgia, as we are also hosting the Union Cycliste Internationale (UCI) Mountainbike Eliminator Cup and Bud & Burgers Cook-off this same weekend. We will have national and international athletes racing on the banks of the Chattahoochee and on the streets of Uptown which should make for an exciting, action-packed weekend with something for everyone!"
Columbus Events, June 2-4, 2017:
June 2: Salt Life Grand Opening Party
June 3: Bud & Burgers Cook-off
June 3-4: WPA Paddle Championships
June 3-4: Union Cycliste Internationale (UCI) Mountainbike Eliminator Cup
For more information, visit www.uptowncolumbusga.com.

About Salt Life: 
Salt Life is an authentic, aspirational lifestyle brand that embraces those who love the ocean and everything associated with living the "Salt Life". Founded in 2003 by four avid watermen from Jacksonville Beach, Florida, the Salt Life brand has widespread appeal with ocean enthusiasts worldwide. From fishing, diving and surfing, to beach fun and sun-soaked relaxation, the Salt Life brand says, "I live the Salt Life". From its first merchandise offerings in 2006, Salt Life has grown to more than $40 million in annual sales, with distribution in surf shops, specialty stores, department stores and sporting goods retailers.
Salt Life, LLC is operated as a subsidiary of Delta Apparel, Inc., where it has been managed since 2011. The flagship Salt Life retail store, which opened in Jacksonville Beach, Florida in 2012, serves as a vision for retail customers to see product placements they can utilize in their stores and across multiple platforms. Last year, Salt Life expanded to the West Coast with retail storefronts in San Clemente and Huntington Beach, California. Salt Life's corporate office is located in Columbus, GA and their distribution center was recently relocated to Fayetteville, NC. Numerous professional athletes and sportsmen have an alliance with the brand in cross-marketing partnerships. (www.saltlife.com/athletes)
About Delta Apparel, Inc.:
Delta Apparel, Inc., along with its operating subsidiaries, M. J. Soffe, LLC, Salt Life, LLC and Art Gun, LLC, is an international design, marketing, manufacturing, and sourcing company that features a diverse portfolio of lifestyle basic and branded activewear apparel, headwear and related accessories.  The Company specializes in selling casual and athletic products across distribution tiers, including specialty stores, boutiques, department stores, mid-tier and mass chains, and the U.S. military. The Company's products are made available direct-to-consumer on its websites at www.soffe.com,www.saltlife.com and www.deltaapparel.com. The Company's operations are located throughout the United States, Honduras, El Salvador, and Mexico, and it employs approximately 7,900 people worldwide. Additional information about the Company is available at www.deltaapparel.com.
About WPA:
Since 2009, the mission of the WPA is to provide a comprehensive voice, fair and equal access and organizational structure to stand up paddling (SUP) and paddle sports and its participants in a manner that benefits the collective paddling community.
About Uptown Columbus, Inc.
Uptown Columbus, Inc. is a 501(c)(3) nonprofit organization that facilitates and coordinates economic revitalization throughout the Uptown area. Uptown Columbus is dedicated primarily to the revitalization of all areas of Uptown Columbus into a model city where people desire to work, live, shop, dine and explore educational opportunities.
Tags: columbus, georgia, salt life, world paddle association, wpa