Story by Jason Hoover:
The culmination of the sophomore season of the East Coast Grom Tour ( ECGT ) presented by O'Neill took place on the Outer Banks of North Carolina in pumping October conditions ranging in size from 5-8 feet.   After nine qualifying stops along the east coast from Maryland to Florida, event founders Phil Jackson and Seth Broudy, with assistance from Brad Beach and Hatteras local Elwood Wescoat, pulled the trigger to run the championship at the historic "Wave Magnet" also known simply as the first groin at the Hatteras lighthouse. The event kicked off with Grom Tour competitor Camden Hoover singing the national anthem and, from the opening heat, it was obvious that both spectators and competitors were in for a show that would hit plenty of high notes during the two day tilt.
Highlights included an air and rail show put on display by Blayr Barton, Kanoa Wong, Stephen Muglia, and Reid Largin as they battled it out in the Shortboard Open final. ESA All-Star Barton took the win in Open, Boys' 11-13, and Boys' longboard, earning himself $1500 cash!  Reid Largin snatched the Nixon Most Radical Maneuver award, and Kanoa surfed well all weekend, earning second place and a new AJW board in Boys' 11-13 and a respectable 4th place in Open.  Floridian Preston Persichetti edged out the other push and go finalists to claim first prize and $250 cash, which he immediately said would be spent on a new Ben "Mr. Nub TV" Gravy board.
Born and bred Buxton local Max Bigney put his rail game on display while his crew raucously cheered him on from high atop their front row, sandbox seats on the north dune and came away with $500 by winning the Boys' 14-17 division. On the Girls' side, another top ESA All-Star, Callie Summerlin surfed her way to a $1000 cash and wins in both shortboard and longboard.  Noah Harrell took the top spot over Mako Musilinas and the other bodyboard finalists to secure the $250 prize, and Porter Hall was honored to win the Elijah Cox Stoked Grom award.
Other highlights included a guest MC appearance by longtime O'Neill team rider and brand ambassador Cory Lopez, brave longboarder's kamakazie-like charging on massive set waves, beach football games and, in a contset highlight, the young "push and go" division competitors and their parents getting their first taste of some heavy Hatteras conditions.  As the contest concluded, participants and their families met up at Real Watersports for the awards banquet, featuring incredible prize packs for the podium finalists including $500 cash for each first place contestant, and a brand new AJW surfboard provided by Sothis Glassing for second place!
A beaming Phil Jackson and Seth Broudy were very thankful for all of the sponsors and volunteers who chipped in throughout the year, and during the awards mentioned "I think we conquered exactly what we set out to do which was bring new kids into the activity that we love, while encouraging some of the best young talent the East Coast has to offer, the contest series has brought camaraderie and excitement back into a competitive format"!
Not to mention how totally cool it was to see a high level contest format back in Buxton and the fabled break at the Lighthouse, the perfect place for a culmination of one of the east coast's fastest rising events.
With a third season confirmed and the addition of New Jersey to the schedule, the East Coast Grom Tour presented by O'neill continues to grow in popularity and in promoting a positive, family atmosphere while spreading the stoke along the East Coast! – Jason Hoover –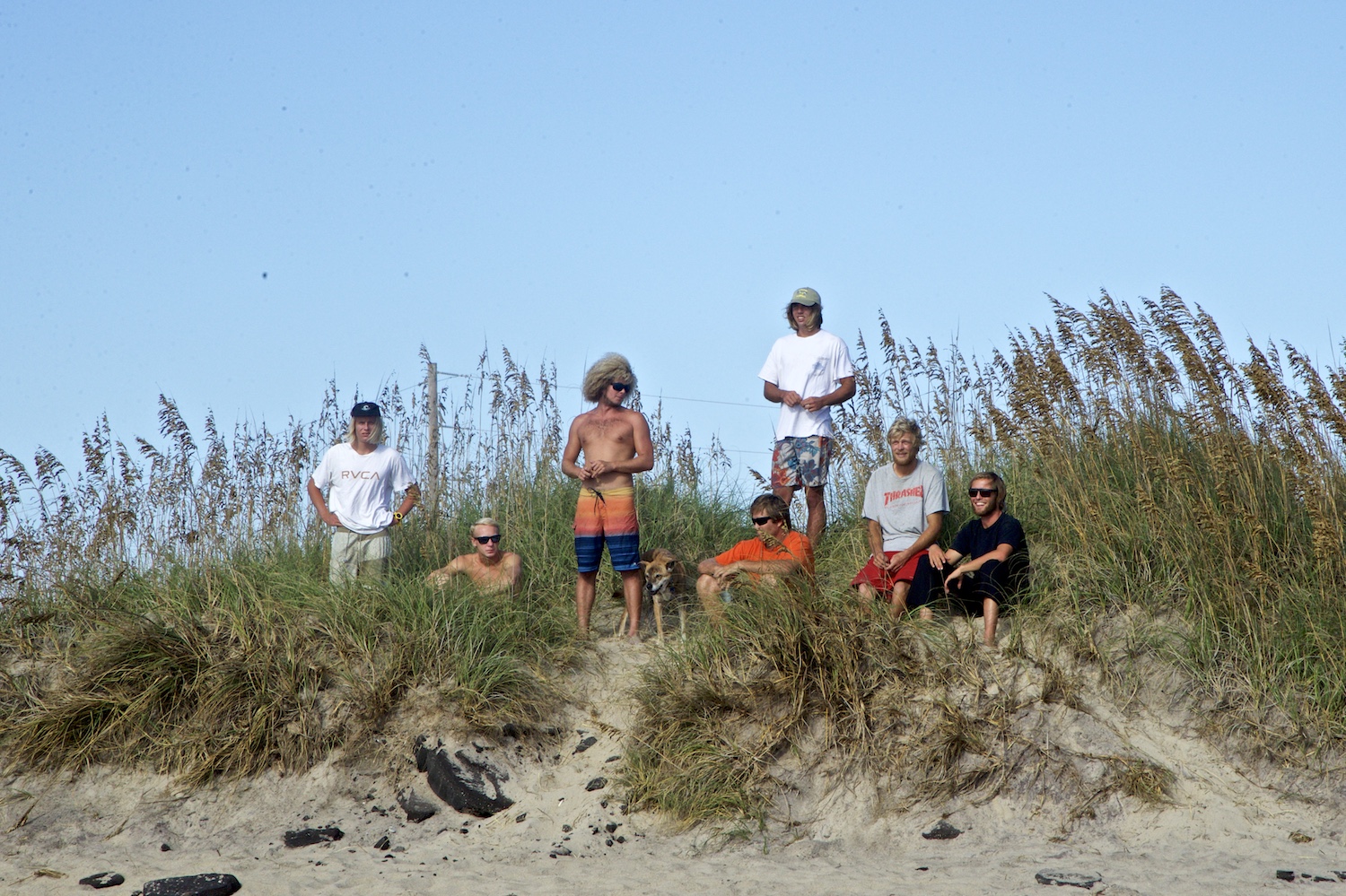 Buxton support crew cheering on local boy Max Bigney from their exclusive sand box seats up on the north dune. Photo: Mez
RESULTS:
Boys -Girls 10 & Under
1st – Evan Oblinger $500
2nd – William Deane – AJW Surfboard
3rd – Palladin Pelliccia
4th – Gage Jackson
Boys 11-13
1st – Blayr Barton $500
2nd – Kanoa Wong wins AJW Surfboard
3rd – Kai Westcoat
4th – Mako Musilunas
Boys 14-17
1st – Max Bigney  $500
2nd – Max Egerton wins AJW Surfboard
3rd – Stephen Muglia
4th – Reid Largin
Girls 17 & Under
1st – Callie Summerlin $500
2nd – Chloe Weinert wins AJW Surfboard
3rd – Sunny Barton
4th – Camden Hoover
Girls Longboard
1st – Callie Summerlin $500
2nd – Camden Hoover wins AJW Surfboard
3rd – Lily Brooks
4th – Sunny Barton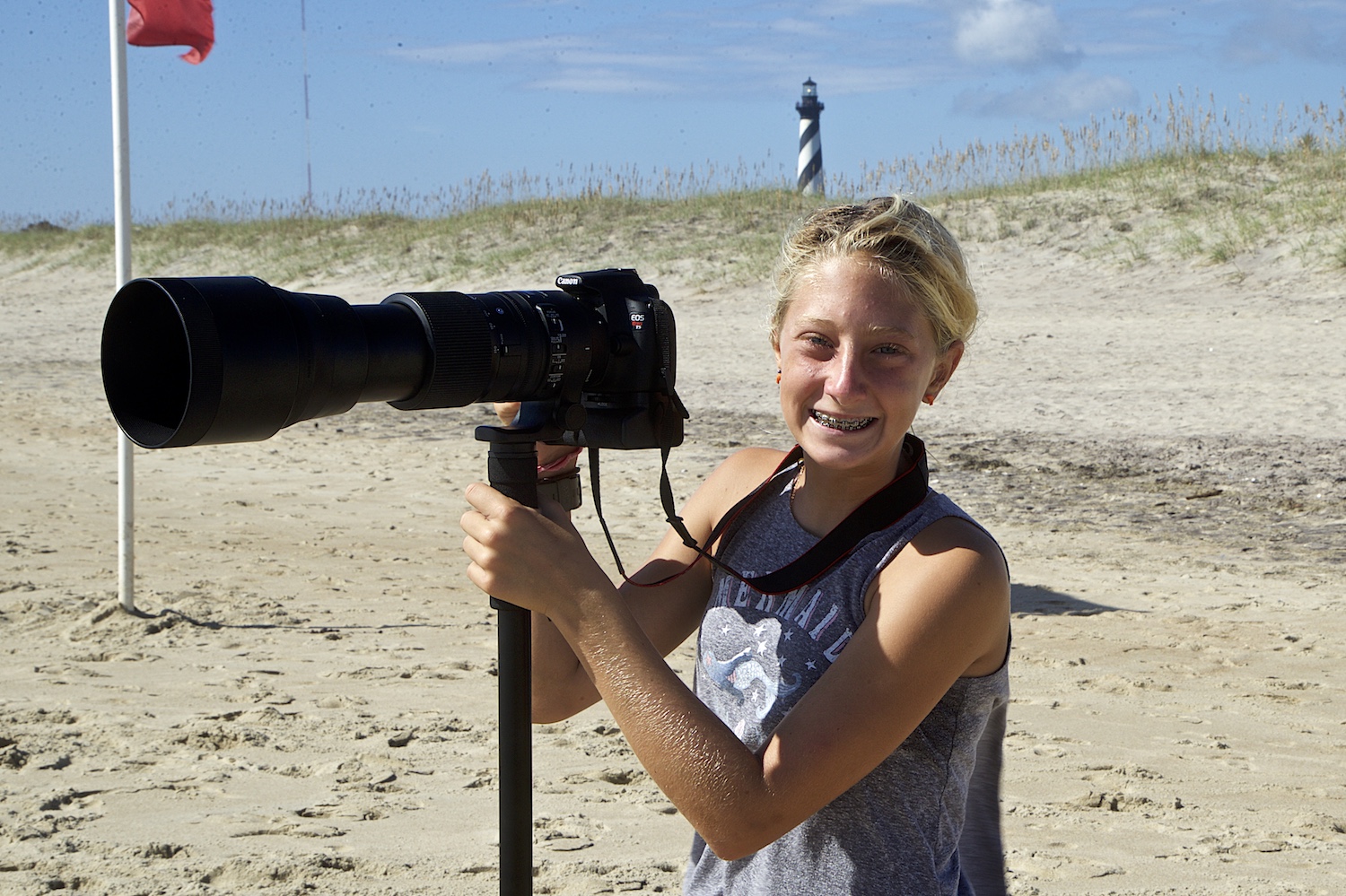 Camden Hoover, 2nd Girls Longboard, singer of a pre-contest, knock-out version of our National Anthem and stand-in photog for story author, her dad Jason. Is there anything she does not do? Photo: Mez
Boys Longboard
1st – Blayr Barton $500
2nd – Scott Pieno AJW Surfboard
3rd – Bear Von Horn
4th – Mack Landry
Open Shortboard
1st – Blayr Barton $500
2nd  _ Reid Largin wins AJW Surfboard
3rd – Stephen Muglia
4th – Kanoa Wong
Open Bodyboard
1st – Noah Harrell $250
2nd – Mako Musilunas
3rd – AJ Jackson
4th – Mack Landry
5th – Gage Jackson
Push & Go Super Groms
1st – Preston Persichetti $250
2nd – Brynn Johnson wins Womper
3rd– JB 2 Bayer
4th – Emery Oblinger
Elijah Cox Stoked Grom Award – Porter Hall
Nixon Most Radical Maneuver – Reid Largin