The Water Brothers Pro 2016 in Memory of Ryan  Roberts will be held at Second Beach, Middletown, Rhode Island on Saturday October 15th or Sunday 16th, or the following weekend of Saturday, October 22nd or Sunday 23rd.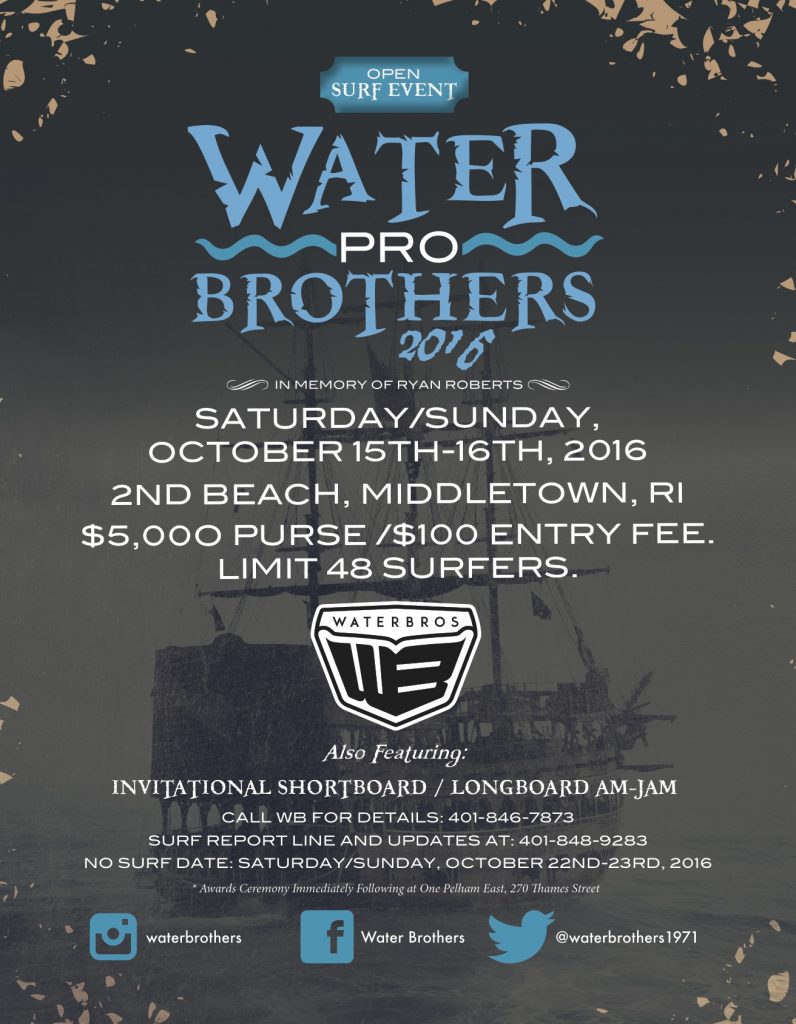 Official date is wave reliant and will be announced 3 to 4 days before the contest is held. Contestants, participants and spectators and being instructed to follow the Water Brothers Pro site and our social media platforms for updates! A $5000 Purse is set for the OPEN PRO with cash prizes for the top eight contestants.
First Prize Winner- $2500
– 48 Surfers are welcome to enter the OPEN PRO.
– Registration opens Saturday, August 20th 2016.
– Contestants will be announced after lineup is filled.
– An Alternates registration will be requested after initial lineup is filled.
– On the official contest day first heat starts at 7AM.
– Opening round will consist of 48 surfers / 4 surfers per heat / Top 2 surfers in each heat advance to next round until final!
Top level judges will score the Water Brothers Open Pro.
An Invitational Shortboard / Longboard AM-JAM will take place between the semi-finals and finals of the OPEN PRO event. Sponsored by Tora Surfboards and CorVac Surfboards, the Invitational AM-JAM will welcome 8 pre-selected Shortboarders and 8 pre-selected Longboarders to compete in individual heats.
Surfboard prizes to be awarded for AM-JAM Winners!
Awards Ceremony
An Awards Ceremony will follow directly following the contest at One Pelham East, 270 Thames Street, Newport, Rhode Island! Cash and prizes will be awarded to the top 8 Contestants of the OPEN PRO, AM-JAM Winners and more!
Music by the Z-Boys at One Pelham East 8-10PM! 
Charitable Recipients :
Roll For Rob is a fund created by friends of Rob Pontes to help support he and his family as Rob continues his treatment for A.L.S. We are honored to have their participation as well as Clean Ocean Access who will also be onsite representing our charitable portion of the event.
If you would like to contribute donations to our charity raffle please visit our Contact Page to connect with Dan Dziubian!
Please continue to stay tuned to updates on the Water Brothers Pro posted on WB social media including special guest, the lineups, surf participation, additional prizes, and more…
Surfers looking to enter the OPEN Pro please visit our Contact Page to connect with Sid Abbruzzi.
If you would like to participate in the Water Brothers Pro 2016 through in-kind promotion or sponsorship visit our Contact Page to connect we are still accepting selected partnerships.
We Look Forward To Seeing You All At The Water Brothers Pro 2016 This Upcoming October!
Tags: 2016, competition, contest, new england, rhode island, water brothers pro