All photos by Jon Carter with bonus, Mega Photo Gallery following event results so please scroll down …
USA Surfing cruised into Nags Head and Jennettes Pier on the Outer Banks of North Carolina, November 4th and 5th for the second stop of the USA Surfing Prime Tour. The Prime Tour is USA Surfing's invitational surf series for the best under 18 year old surfers on each coast to compete for a spot in the USA Surfing Championships at Lower Trestles, San Onofre State Beach, in June, and potentially the World Champion USA Junior Surf Team. This was our 8th year coming to the Outer Banks and it always delivers.
The week started with USA Junior Surf Team Training with coach Joey Buran Tuesday through Thursday. East Coast USA Junior Surf Team and Development Team members that participated were Bo Raynor, Laird Myers, Owen Moss, Zoe Benedito, Coral Schuster, Ava McGowan and west coast visitor Caitlyn Simmers. Though the forecast was calling for meager waves, the team actually scored fun chest high waves all week. The team had a great few days of skill building and team bonding.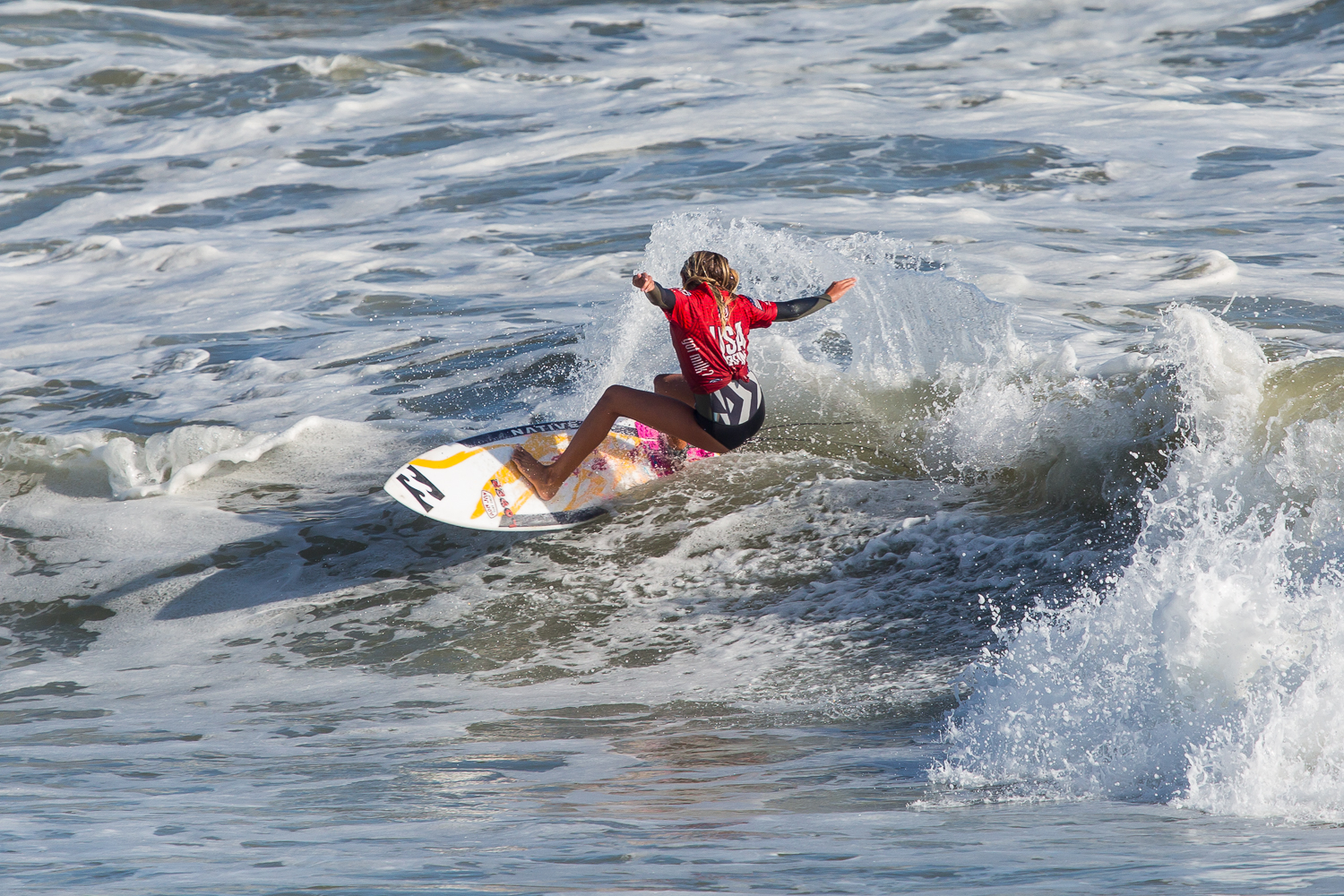 Looks like her pre-event training with former Pipe Master legend, Joey Buran paid off for U-16 champ, Zoey Benedetto.
The Prime event followed at Jennette's Pier in Nags Head on Saturday and Sunday. The beautiful Indian Summer weather that prevailed during the week, gave way to howling Northeast winds Saturday morning, whipping the waves into overhead, shifty, blown out bowls. Despite the difficult conditions, the kids made it look fun cranking through the first rounds of all 5 divisions.
Saturday night, Outer Banks Boarding Company hosted a USA Surf Team Fundraiser that included music by legendary blues guitarist and singer, Mojo Collins, frozen yogurt from Surfin' Spoon, video recap of the ISA World Junior Surfing Championships on the Olympic Channel and a short talk by USA Surfing CEO, Greg Cruse. Cruse spoke about the USA Surfing Program, the gold medal win in Japan, United States Olympic Committee funding recently awarded and their roadmap to medal at the 2020 Tokyo Olympics.
Sunday morning greeted the competitors with a bit less wind, but the surf was still a bit morning sick. Conditions improved through the day as the wind continued to slack and the surf cleaned up to fun peaky conditions. Once the last horn sounded, here's who came out on top of the pack:
Boys U18
1st – Micha Cantor – Murrells Inlet, SC
2nd – Bo Raynor – Wilmington, NC
3rd – Kyle Tester – North Cape May, NJ
4th – Kai Barton – Virginia Beach, VA
Girls U18
1st – Leah Thompson – Wrightsville Beach, NC
2nd – Maria Barend – Little Compton, RI
3rd – Jasmine Gailey – Titusville, FL
4th – Audrey Presti – Melbourne Beach, FL
Boys U16
1st – Owen O'Donnell – New York, NY
2nd – Laird Myers – Virginia Beach, VA
3rd – Kanoa Wong – Virginia Beach, VA
4th – Owen Moss – Wrightsville Beach, NC
Girls U16
1st – Zoe Benedetto – Palm City, FL
2nd – Ava McGowan – New Smyrna Beach, FL
3rd – Hannah Blevins – Palm Coast, FL
4th – Audrey Presti – Melbourne Beach, FL
Boys U14
1st – Ryan Huckabee – Flagler Beach, FL
2nd – Owen Moss – Wrightsville Beach, NC
3rd – Seamus Carey – Linwood, NJ
4th – Blayr Barton – Virginia Beach, VA
********* Next East Coast Prime scheduled for New Smyrna Bech, Florida March 3rd and 4th, 2018 **********