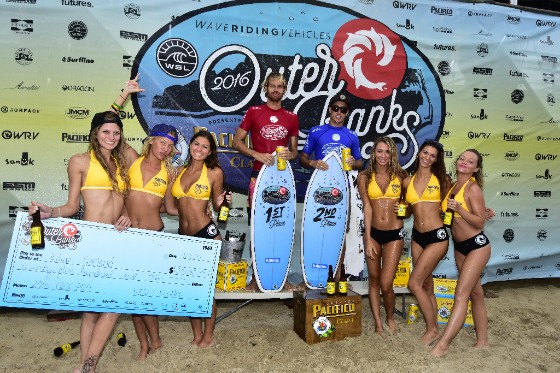 Winner of the 2016 WRV Outer Banks Pro presented by Pacifico Men's QS1,000 Kilian Garland (USA) (L) and runner-up Jordan Lawler (AUS) (R). Image: WSL/ John W. Ferguson
The World Surf League (WSL) WRV Outer Banks Pro presented by Pacifico Mens QS1,000 took full advantage of the forecast and crowned Kilian Garland (USA) its 2016 champion in remaining one-to-three foot windswell. Hurricane Gaston provided incredible conditions on the opening days of competition, but with the ever-looming Hurricane Hermine making its way up the coast, the final day of action got underway and Garland earned a valuable 1,000 points.
"I've been coming to this event since it started and just kept trying to better my result each year so I'm really stoked to finally get a win," Garland said. "I'm fired up to get more contests under my belt now and keep making more heats. These QS1,000s are pretty tough with the amount of talented guys that come compete in them and today was no different. The waves dropped off a little bit from how fun it was yesterday but you couldn't count anyone out."
The Ventura, Calif., native looked in-form throughout this entire event, not dropping a single heat en route to a massive Final performance — putting Jordan Lawler (AUS) in a combination situation, meaning he needed two new scores to overtake the lead. Garland finished with a Semifinal result last year and had the chance to take out the culprit, Asher Nolan (USA), in the Quarterfinals before then taking out Kevin Schulz (USA).
The win put Garland to the top of the North America QS ratings and will now have to defend that lead heading into the next event.
"I'll definitely be thinking about the Costa Rica event a lot more now since it's the only one left in our region this year," Garland added. "If I can hold onto this lead and get into the main events next year that would be amazing. These points are a big help in that regard and now I'll have a lot to compete for."
Runner-up Jordan Lawler (AUS) had an incredible run at this event, getting through three rounds yesterday with solid numbers. The Australian took down East Coast legend Gabe Kling (USA) in the Quarterfinals and the young Hawaiian talent Elijah Gates (HAW) in a close Semifinal heat. Hailing from Sydney, it was Lawler's first time to this event and he walks away with 750 points — and $1,500.
"This was such a fun event after finally getting the opportunity to come down and check it out," Lawler said. "Everyone kept telling me about all the good vibes and event that goes on and it's lived up to the word. It would've been nice to take that win, but it was tough out there and hats off to all the boys for a good one. This is just a stepping stone toward my ultimate dream of one day competing on the Championship Tour so it's something to enjoy, but I'm far from done."
Semifinalist Kevin Schulz (USA) notched his best QS performance yet with an impressive run at the WRV Outer Banks Pro. Making it through a tough Quarterfinal draw against Jason Torres (CRI), Schulz was left waiting for one last opportunity to strike in the Semifinals — but would be left waiting. The San Clemente, Calif., surfer was still in good spirit following his close-call loss with a lot planned in coming months.
"I'm really happy we ran today with what the weekend looks like and stoked on making a Semifinal — just got unlucky with no waves coming my way in those last minutes," Schulz said. "I knew going into that heat it was going to be a tough one with Kilian just looking really strong, but felt like I could've made it through if the opportunities came. Now I'll get to spend some time at home and prepare for the event in Costa Rica where I'll really be looking for a result to try and boost my ratings even further so I'm really excited for what's ahead."
Elijah Gates (HAW) bettered his 2015 performance in terrific fashion with a Semifinal appearance at this year's event. The young Hawaiian only made it to Round 3 last year, as well as an early exit at the Vans Pro Men's QS3,000, and now has some momentum heading into a busy fall schedule.
"This event was a tough one looking back with a long day yesterday and I was hoping for some better waves today, but I'm stoked with this being the best East Coast trip I've had yet," Gates said. "Last night was cool to sit back and realize I made three heats yesterday. I thought I could do it, it would've been great to make the final of course, but this will help get me set for all the events this winter back home with the HIC Pro — and maybe get into the QS3,000 in Costa Rica."
WRV Outer Banks Pro Mens QS1,000 Final Result:
1 – Kilian Garland (USA) 16.27  1,000 points $2,500
2 – Jordan Lawler (AUS) 10.16  750 points $1,500
WRV Outer Banks Pro Mens QS1,000 Semifinal Results:
SF 1: Kilian Garland (USA) 13.20 def. Kevin Schulz (USA) 10.27
SF 2: Jordan Lawler (AUS) 13.27 def. Elijah Gates (HAW) 11.50
WRV Outer Banks Pro Mens QS1,000 Quartefinal Results:
QF 1: Kevin Schulz (USA) 13.20 def. Jason Torres (CRI) 10.33
QF 2: Kilian Garland (USA) 15.16 def. Asher Nolan (USA) 14.53
QF 3: Jordan Lawler (AUS) 13.90 def. Gabe Kling (USA) 10.93
QF 4: Elijah Gates (HAW) 13.17 def. Knox Harris (USA) 11.57
Tags: competition, contest, north carolina, outer banks pro, qs, wrv, wsl