The World Surf League (WSL) WRV Outer Banks Pro Men's Qualifying Series (QS) 1,000 presented by Pacifico got underway with brilliant surfing from competitors throughout the entire opening day of action at Jeannette's Pier, Nags Head, NC. Round 1 and Round 2, Heats 1-4 were completed in three-to-four foot swell that provided plenty of scoring potential and surfers posted excellent numbers while showcasing what they're capable with conditions on hand. This event is one many surfers consider important for their chance to begin climbing into the higher-level QS events, and get a glimpse of the talent they will have to beat.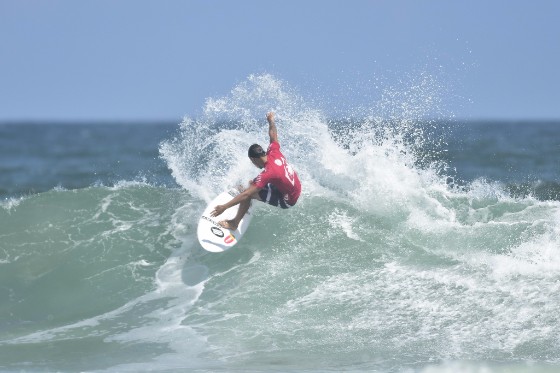 Luan Wood (BRA) ripped through a Round 1 win posting an 8.27 in the process on opening day of the WRV Outer Banks Pro Men's QS1,000 presented by Pacifico. Image: WSL/ John W. Ferguson
Gabriel Andre (BRA) came out in spectacular form for his Outer Banks debut with the highest heat total of the day with a 16.67 (out of a possible 20). The Brazilian posted two excellent numbers as he notched an 8.00 and 8.67 (out of a possible 10) en route to a big heat win. This is Andre's first time to the WRV Outer Banks Pro, but with the prep work he's put in, he poses a threat to many surfers here vying for points within the North America region.
"It felt amazing to get those scores in my first heat with some really fun waves coming through today so I'm just thankful to make it on," Andre said. "I love it here so far after trying to get a result in Virginia and the waves just not helping me there. I've been training on my backhand so much and I'm really excited to try and show my hard work here."
Hoping to find a keeper result and turn his season around, Dane Mackie (BRB) showed he's prepared to fight for those 1,000 points. Mackie posted the highest single-wave score of an 8.67 that Andre was able to match him on and will look for more of the same this week. The Bajan goofy-footer was pleasantly surprised the way his heat worked out after spending some time watching previous heats.
"I wasn't expecting to find any lefts out there and they just kept coming so that was great to keep finding them," Mackie said. "It looked like I was going to be trying to out-the-back rights but the lefts ended up feeling really fast and smooth. I love coming here being so close to home and getting a chance to compete in a few events — we have a really tight crew here which is great for the support."
"I'd really like to start building on my points and do a bunch of these QS1,000s which will help move higher up the ranks," Mackie added. "It would be great to get into the QS6,000s next year, but I know it's going to be really hard with so many guys surfing well. There's not many events near my home island so these events are a big help."
Venezuelan Francisco Bellorin (VEN) made his presence known at Jeannette's Pier and blasted through two heat wins in impressive fashion. Posting an 8.17 in Round 1 and following suit with an 8.33 during Round 2, Bellorin couldn't be stopped — but knows the job is far from done with big ambitions on the horizon.
"I'm so happy to make those heats and want to make as many as I possibly can here at the Outer Banks," Bellorin said. "My goal is to make it into the Costa Rica event without having to worry about rankings so to get big points here would be crucial. My boards are working really well so far and this wave reminds me of my homebreak which is great. The vibes here are really good and I just want to try and continue posting those kind of numbers."
Jhony Corzo (MEX) hasn't found the best results in his Junior Tour season but is looking to earn valuable points among the QS competitors. The young Mexican surfer is off to a good start in that regard, posting two heat wins with an impressive Round 2 victory over fellow Junior competitor standouts Ryland Rubens (USA) and Jake Marshall (USA).
"This is event is so cool to surf against guys I've seen competing for years, as well as the up-and-coming talented guys here as well," Corzo said. "It felt incredible to get those two wins and really enjoyed the waves today so I hope they keep coming. I'm in the position as most guys here who are aging out of the Junior events and just trying to build our seed up for next year. To compete here is definitely a big help and I want to make a few more heats at this one."
Tomorrow's 7:30 a.m. EST Call will determine an 8:00 a.m. EST Start for Round 2, Heat 5 of the WRV Outer Banks Pro QS1,000 presented by Pacifico. For a LIVE webcast of the event go to outerbanksprolive.com and witness all the action.
For more information and event updates go to www.worldsurfleague.com, or download the WSL App to get updates on your mobile device.
WRV Outer Banks Pro QS1,000 Round 2 Results:
Heat 1: Tomas Tudela (PER) 13.10, Jacob Burke (BRB) 10.90, Dylan Kowloski (USA) 10.26, Wil Reid (USA) 6.26
Heat 2: Jason Torres (CRI) 14.13, Victor Mendes (BRA) 13.80, Chris Foster (HAW) 9.13, Jordy Collins (USA) 6.44
Heat 3: Francisco Bellorin (VEN) 14.50, Bruce Mackie (BRB) 11.00, Jack Boyes (USA) 9.50, Alex Pendleton (HAW) 9.10
Heat 4: Jhony Corzo (MEX) 15.50, Ryland Rubens (USA) 12.50, Jake Marshall (USA) 11.67, Allen Schuyler (HAW) 7.86
WRV Outer Banks Pro QS1,000 Round 1 Results:
Heat 1: Jacob Burke (BRB) 7.53, Jason Torres (CRI) 7.37
Heat 2: Jordy Collins (USA) 13.00, Wil Reid (USA 7.60, Grady Kenner (USA) 6.23, Logan Landry (CAN) 6.14
Heat 3: Francisco Bellorin (VEN) 15.67, Ryland Rubens (USA) 11.66, Jeffrey Myers (USA) 3.44
Heat 4: Jhony Corzo (MEX) 12.53, Jack Boyes (USA) 11.40, Jonathan Chila (ECU) 6.27, Luis Calle (PER) 5.87
Heat 5: Cobie Gittner (USA) 14.77, Nick Marshall (USA) 10.70, Micky Clarke (USA) 10.50, Lucas Rogers (USA) 6.67
Heat 6: Micha Cantor (USA) 11.84, Brandon Mitchell (USA) 8.17, Chris Hunter (USA) 5.90
Heat 7: Jake Kelley (USA) 13.57, Adrian Garcia (PER) 9.87, Simon Hetrick (USA) 8.70
Heat 8: Dane Mackie (BRB) 16.34, Billy Chol (HAW) 10.40, Gabriel Morvil (USA) 10.33, Nohea Futrell (USA) 9.33
Heat 9: Knox Harris (USA) 12.00, Philip Goold (USA) 11.00, Bo Raynor (USA) 9.40
Heat 10: Tomas King (CRI) 13.40, Rory Reep (AUS) 12.47, Sean Martin (USA) 7.73, Rex Flodstrom (USA) 3.70
Heat 11: Gabriel Andre (BRA) 16.67, Ben Bourgeois (USA) 13.96, Dylan Hord (USA) 9.74, Tad McCardell (USA) 7.90
Heat 12: Pedro Todaro (BRA) 12.54, John Mel (USA) 11.06, Parker Cohn (USA) 10.54, Quentin Turko (USA) 9.60
Heat 13: Gabe Kling (USA) 12.40, Noah Beschen (USA) 11.87, Andrew Jacobson (USA) 7.43
Heat 14: Luan Wood (USA) 15.44, Chauncey Robinson (USA) 14.74, Italo Mesinas (USA) 6.83, Jared Jennings (USA) 4.87
Heat 15: Che Allan (BRB) 15.40, Brad Ettinger (USA) 11.36, Preston Dexter (USA) 8.34, Brandon Todd (USA) 8.30
Heat 16: Luke Gordon (USA) 13.60, Dallas Tolson (USA) 12.50, Christopher Smolko (USA) 4.43, Frank Chenault (USA) 3.74
Tags: competition, contest, jeannette's pier, outer banks, outer banks pro, qs, wrv, wsl