East Coast Grom Tour co-founders Seth Broudy and Phil Jackson are excited to announce that the 2017 O'Neill East Coast Grom Tour Championships will be held on September 16th-17th in Buxton, NC, at the Cape Hatteras Lighthouse!
Phil Jackson was stoked to have the opportunity to bring a high level of competitive surfing back to the Lighthouse, where decades of East Coast riders have competed with the towering landmark as the backdrop.
Scheduled dates for the championships are September 16th & 17th, 2017. With an array of amazing prizes and trips to Puerto Rico on the line, the groms are sure to give it their all for a chance to win an opportunity of a lifetime!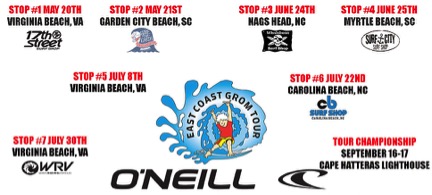 For more information, please visit https://www.eastcoastgromtour.com
[template id="411″]