Story by: The Furbandits ( Please scroll all the way through for contest photo gallery! )
This year's 2017 Quiksilver "King of the Peak" held at Sebastian Inlet after a five year hiatus did not disappoint. New energy and commitment from Quik and many blessings in the form of a jamming roster of progressive surfers, great weather, fun 3-4 foot plus surf with light north winds perfect for punting made for many stand-out moments performed high above the wave faces.
For the rejuvenated, 19'th appearance of the v.2 KOP, Director Matt Kechele came up with some new and meaningful twists that put another hot shot of adrenalized excitement into both the competitors and all the arm chair quarterbacks spectating and frothing vicariously over each "claim" on the beach.
In the current, reconstituted format the surfers now get 1) two skins claim opportunities per heat and 2) a "leader's chair" that is set-up next to the judging tent and, if you claim a ride which becomes the top score at that moment you must exit the water and take a seat in the chair. You then either wait to win based on that score you claimed if nobody tops it or, if somebody does claim a higher score, it's back into the water you go to try and top that number while the new leader takes the chair to await his fate.
To say this adds new dimensions of excitement and strategizing into each wave surfed and score claimed into what was an already super-charged, highly entertaining format where the competitors truly decide their fate is an understatement.
Contestants are truly rewarded for not holding back their air game and it is not a stretch to say this comp has morphed into one of the all time great progressive formats out there anywhere.
Simply put, both ideas were totally brilliant.
Credit due must also go to the judging panel who adapted to the new wrinkles quickly and came through with flying colors by handling the sometimes lightening fast exchanges and scoring madness with aplomb while delivering spot-on decisions with consistency and with little or no dissension.
In another add-on to the written judging criteria reflecting contest surfing today, critical board placement above the lip is officially mentioned and very much emphasized which suited some of the East Coast's finest above the lip surfers who entered like Aaron Cormican, Daniel Glenn, Robbie Mc Cormick, Travis Beckmann, Evan Geiselman, Chauncey Robinson, Logan Hayes, Tommy Coleman and Lucas Rogers.
And with Brevard's area code serendipitously being 321, and Cape Kennedy so nearby, the Space Coast was never more appropriately nicknamed as the wave riding aerial-nauts totally went for broke all contest long. They then went completely bonkers during the Florida Beer Company Airshow at the end of day one launching some of the gnarliest, most tweaked boosts ever seen at Sebastian Inlet during a KOP event which is saying an awful hell of a lot.
Now getting down to the action side, to start the contest off with the traditional, pull a name out of the hat heat draw by random competitors, judges, photog's, support staff it was "Gorkin Flip" originator Aaron Cormican whose name came out slotting him into heat one, round one on day one.
You could call it fate but this event, running for 19 years, has such a rich history filled with so many dramatic, crazy, surprising, unthinkable twists and turns it wasn't much to think about – somebody has to go first, right?
a previous KOP champ, Cormican started surfing and winning right out of the chute.
And winning and winning and winning one heat after the other while collecting $255 for every "skin" he took down, setting the tone for all others to follow and attempt to catch up to.
The man was truly on a roll and stayed there with many of his victories won by aerial assault but also mixed nicely with some skins based on deep gouging on rail moves giving the judging panel comprised of successful contest vets like Jeff Klugel, Barry Pasonski and Jeremy Saukel, exactly what they were looking for.
However, even when somebody gets on a day one, Gorkin-like roll, we've all witnessed enough day two rolls to know that no one should even think about the KOP crown resting on their little salt encrusted noggin until all others are completely and mathematically eliminated. Contest Director Matt Kechele recalled some monster runs over the past 19 years by former "Kings" like Bryan Hewitson, Jeremy Johnston, CJ Hobgood, and of course, King Kelly Slater, but a 10 straight skin's in a row roll on day one by Cormican was a magnificent first.
But by the end of day one, only four surfers had the opportunity to tie Gorkin and those were the surfers in heats one on day two. (With day one heat draw now flipped upside down for day two.)  It was a tall task that they had to do what Gorkin did, and to force a tie and possible surf off. Still, Gorkin had to lose in his last heat skin opportunity of the day.  It's only happened once in KOP storied history.
While everybody was looking for a story book, game 7 type finish between Gorkin, Asher Nolan, Daniel Glenn and Gabe Kling at the end of day two, it just didn't happen this time.
What did happen was more exciting skin runs and a full blown showcase of shit hot surfing by the likes of Daniel Glenn who was on fire pocketing 4 Skins while bagging the highest score with the gnarliest, highest air of the event that was good for a 9.33.
Meanwhile, Asher Nolan showed he's still the boss from Jacksonville Beach by taking five skins to fellow Jax Jaguar lover and 2 skin winner, Evan Thompson while former WCT'er Gabe Kling rolled to three stealing day one's last heat of the day from the "Great Gorkin" at the hooter (using a pair of fins Cormican loaned him no less) to steal a skin away from the 37 year old and keep him from running the entire table for 11 consecutive skins.
Evan Geiselman, a first timer at the KOP also nabbed two skins while calling the KOP "the most fun contest he's ever been to" along with Junior surfers Tommy Coleman, Blake Speir, and Chauncy Robison obviously loving the newer criteria and doing some scene stealing with tail high aerials that blew minds.
Just to show how far things have come in this year's event after the 5 year absence, we saw more aerial completions than any KOP ever with the popular side show of the KOP "Air Show".
Presented by the Florida Beer Company – Florida Lager with an $800.00 overall purse putting an exclamation point on that statement and no doubt pushing everybody higher and higher. It was the most exciting KOP Air Shows by far with fifteen invitees and a 30 minute "Free For All" with the cash prizes going to the top three single best boosts. This was also a photographer's dream smorgasbord of photo ops with the winners $400 payout going to New York's Travis Beckmann landing a handful of solid variations, second place going to hard charging goofy from Virginia Lucas Rogers and a solid third place going to young Floridian, Chase Modelski.
Quiksilver KOP at Sebastian Inlet – welcome back, we really missed you and thanks for returning with one huge, loud successful BANG!
2017 Quiksilver "King of the Peak" Results:
Aaron Cormican 10 Skins  $2,550.00
Asher Nolan  5 Skins  $1,275.00
Daniel Glenn  4 Skins  $1,020.00
Gabe Kling  3 Skins  $765.00
Chauncey Robinson  2 Skins  $510.00
Nick Alexander  2 Skins  $510.00
Tommy Coleman  2 Skins  $510.00
Michael Dunphy  2 Skins  $510.00
Evan Geiselman  2 Skins  $510.00
Blake Speir  2 Skins  $510.00
Evan Thompson  2 Skins  $510.00
Sam Duggan  1 Skin  $255.00
Mason Sapp  1 Skin  $255.00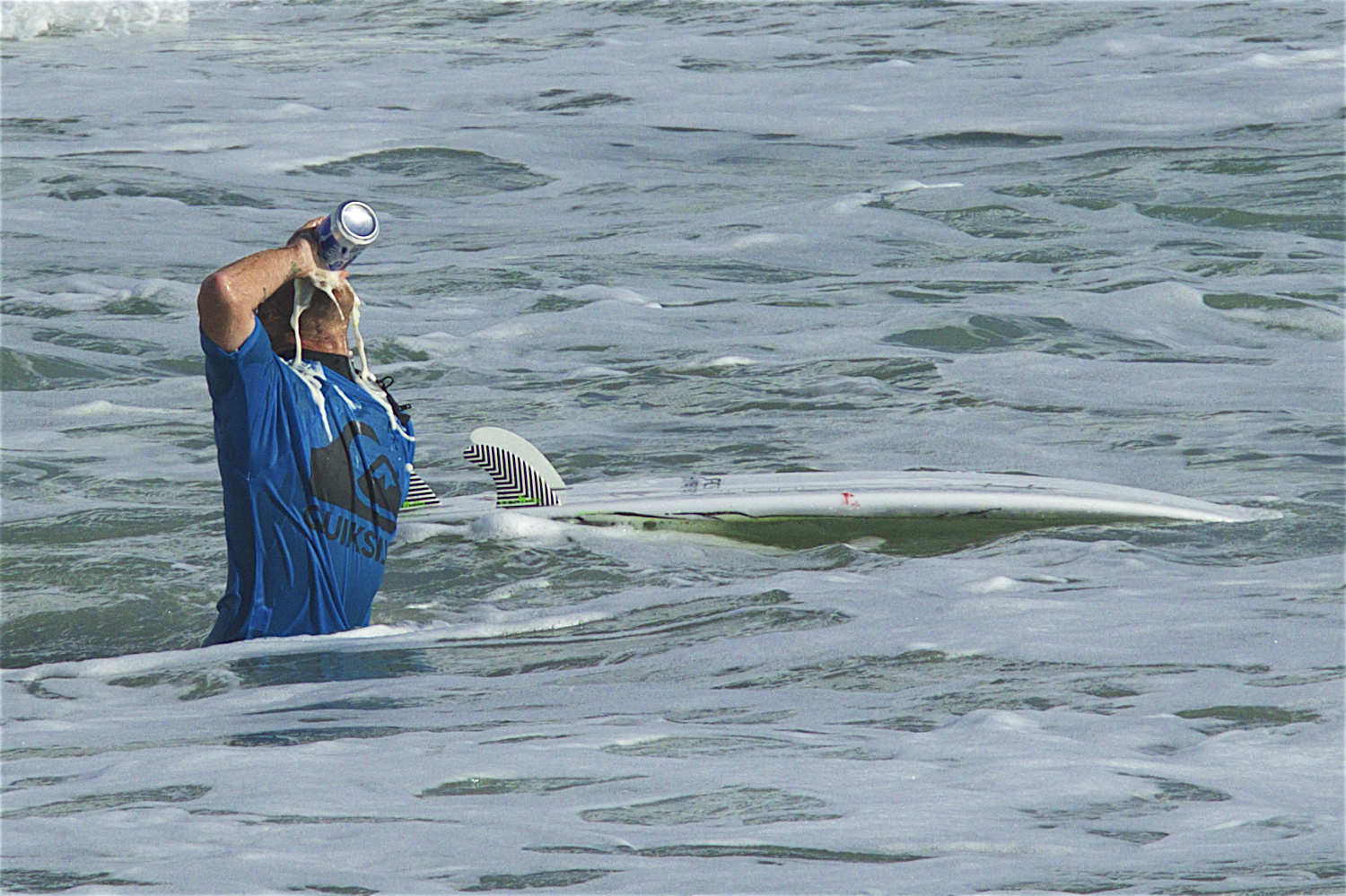 Talk about getting frothy. Cormican knows how to celebrate – and claim – his 2017 KOP win. Photo:Mez