Salty Sweet Enterprises announced that the Salty Sweet Pro/Am will again be hosted by the world famous Cocoa Beach Pier in Cocoa Beach, FL, on October 14-15, 2017. Florida's largest female only professional surf contest attracts professional and amateur competitors from around the country to compete for cash, prizes and bragging rights.
"Our goal is to give these athletes the best possible environment we can, and that is undoubtedly the Cocoa Beach Pier," says Crystal Cooper, event organizer." The Salty Sweet Pro/Am draws nearly 200 surfer girls from around the country, we are proud to provide them with a venue that has all the amenities we need and also the most consistent surf. Anyone in the contest scene on the East Coast has enjoyed competing there. We are stoked to keep surfing at the pier."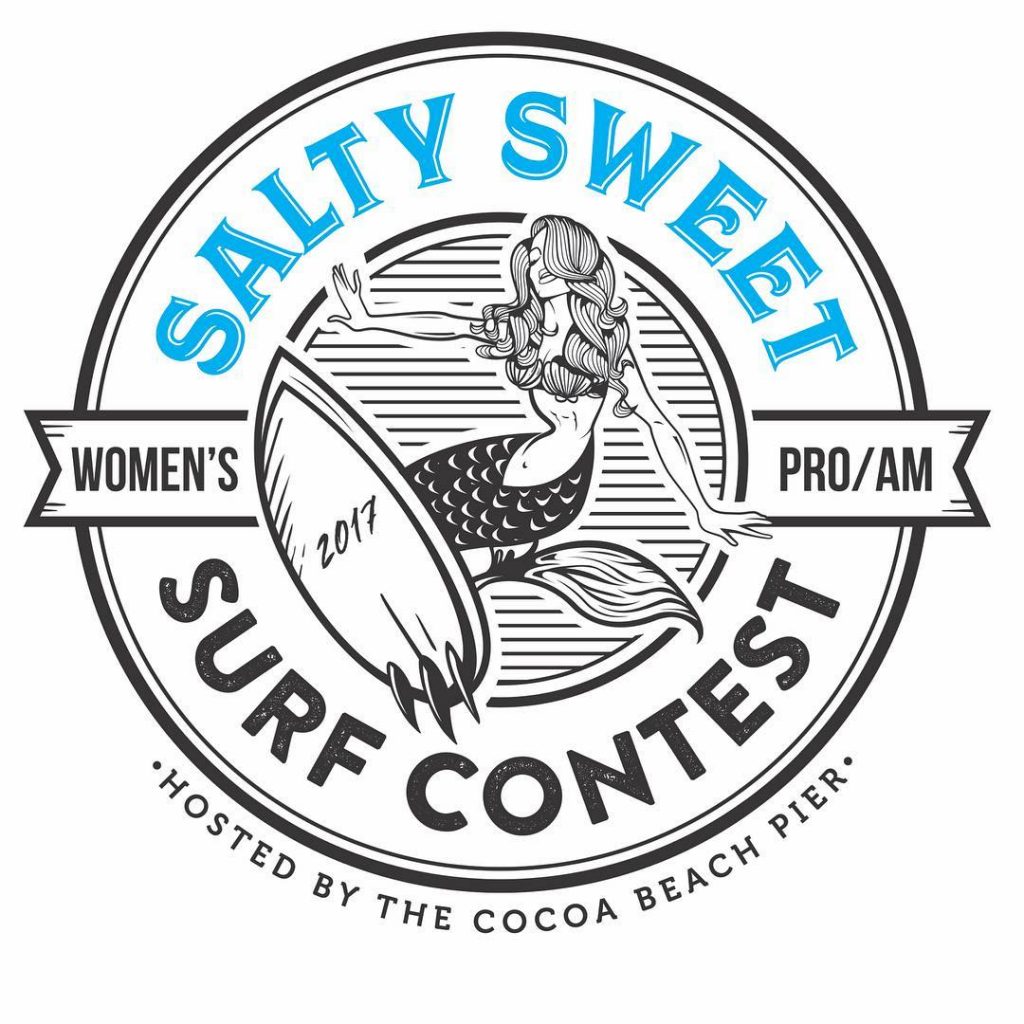 The Salty Sweet Pro/Am, even though only on its 4th year, is one of the largest women's surf events in the country with a cash prize of $5,000 for the pros and 13 different amateur divisions. The event earned Eastern Surf Magazine's "Best New Contest" award in 2014 and has shown consistent growth since then.
This year is sure to be even larger as the event is supported by Florida's Space Coast Office of Tourism through its Sports Marketing Program for the first time. Competition begins on Saturday, October 14, and will run through Sunday afternoon. The awards ceremony will begin at 6pm at Keith's Oyster Bar (at the base of the Pier). Spectators are welcome.
"Many of these competitors only see each other at this event, so they look forward to it all year," Cooper says."It's a rare opportunity when we are able to come together as a female surf community and just focus on what we love — surfing and being with our friends and families. So there is really much more to it than a surf contest. It's about making memories and sharing the stoke. It's empowering to be surrounded by like-minded people. We are happy to provide the surf community a weekend just for the girls."
Some professionals competing this year are Jazmine Dean (St. Augustine, FL), Eva Duran (Jacksonville, FL), Amanda Giberson (St. Augustine), Zoe Benedetto (Vero Beach, FL), Morgan Knight (Virginia Beach), Brittany Hickey (New Jersey), and local pros Lauren McLean, Nikki Viesins, Emily Ruppert, Mary Paine, and Maddy Malizia to name a few.
2017 will include a prize of $2,500 for the top professional longboard finishers and $2,500 for the top professional shortboard finishers. The amateur divisions start with the 6 & Under division and go all the way up to the 50 & Up division. Also expect to see a tandem exhibition on Sunday. The event will run Saturday October 14 8 am through Sunday October 15 with awards at 6pm at Keith's Oyster Bar following the conclusion of the contest.
For info visit www.SaltySweetProAm.com, @saltysweetproam, or Facebook.com/saltysweetproam.
Tags: Central Florida, cocoa beach pier, contest, girls, salty sweet women's pro-am