The 17'th Annual Tommy Tant Memorial Surf Contest went off without a hitch in very contestable, 3-4 foot surf that provided a little something good for everybody from open pro's and women's division legends, to legends, longboarder's, masters, grommets and the tadpoles in their under 10 division and the show stealer of the entire event.
Held at the Flagler Beach Pier, the weather ranged from beautiful, north Florida work-on-your-tan sun to blustery, cold front conditions on Sunday which was welcomed by most all after a long, hot hurricane filled summer that helped kept the waves pumping right through to the Tadpoles finals late Sunday afternoon.
The contest was founded, organized and run by Tommy's brother Will Tant, who is stepping aside as contest director after this years event, with lot's of love and assitance from his family and an outsized army of volunteers, surf buddies and goodhearted people wanting to play a part and pay it forward.
This long running event is not just another surf comp.
They have raised major funds for food banks, for the under privileged and have provided an abundance of scholarships over the years which have helped innumerable student's accomplish their scholastic dreams.
While the event will miss Will as director he is the type of person who truly inspires people to try and live a one love life and to give of oneself to help others who need a hand up which is really the brilliant, shining essence and at the very heart of this endeavor.
And the Tant Memorial will live on according to Will, so we'll let him have the last word here in his usual and abundant positivity and unlimited belief that we can all do better by doing unto others  therefore doing better for ourselves.
"While difficult to step down as director of the event, I am confident the contest is in a healthy place to continue to succeed. My parent's did a fantastic job, especially for their first time running it. All weekend long I also witnessed the community volunteering their time on the event, from setting up banners to packing up the chairs and tables. These are healthy signs. The event remains driven from a place of love, family, community, and surfing, which reflects Tommy and the values he ordered his life according to".
-Mez-
(* for additional photos keep scrolling past results ….)
The 2017 Tommy Tant Memorial Contest Final Results:
Open Bodyboard
1. Dan Worley
2. Porey Rainey
3. Tyler Dalecki
Grand  Masters
1. Stephan Nipple
2. Bob Lindsley
3. Jay Smith
4. Lynn Harrington
5. David Pamlilio
Masters
1. Ben Lacy
2. Jimmy Blumenfeld
3. Davis Guy
4. J.J. Crane
5. Donovan Killian
Boys & Girls 11 & Under
1. Braeden Kopec
2. Ethan Harbinson
3. Emily Coluccio
4. Kyan O'Rourke
5. Benji Lange
6. Savannah Love
Boys 18 & Under
1. Gavin Coluccio
2. Logan Coluccio
3. Kai Delorenzo
4. Carl Burger
5. Joel Luteran
6. Quinn Higgins
Open Mens Longboard
1. Ryan Conklin
2. Saxon Wilson
3. Dylan Prestwood
4. Patrick Conklin
5. Bubba Tyson
6. James Palazzotto
Open Women Longboard
1. Kelsea McCormick
2. Hannah Blevins
3. Emily Skripko
4. Olivia Beaven
5. Isabella Tietje
Girls 17 & Under
1. Emily Coluccio
2. Hannah Blevins
3. Audrey Presti
4. Niyah Rosen
5. Amber Olsen
6. Kelsea McCormick
Tadpoles
1. Grady Love
2. Rad Ragar
3. Everett Nipper
4. Cash Nipper
5. Aviles Scordigno
6. Jimmy Brittain
Legends
1. Doug Marsh
2. Mark Kincaid
3. Sandy Marino
4. Tom Tant
5. Phil Spoerle
Boys 14 & Under
1. Noah Brownell
2. Carl Burger
3. Logan Coluccio
4. Gavin Coluccio
5. Evan Tyson
6. Joel Luteran
Open Men
1. Robbie McCormick
2. Jimmy Blumenfeld
3. Ben Lacy
4. Josh Lasalle
5. Evan Brownell
6. Joel Luteran
Junior Pro
1. Evan Brownell
2. Ryan Huckabee
3. CJ Garren
4. Sean O'Neal
Womens Pro
1. Eden Lang
2. Rachel Presti
3. Hannah Blevins
4. Audrey Presti
Mens Pro – Presented by: Florida Hospitals Orthopedic & Sports Medicine
1. Evan Geiselman
2. Michael Dunphy
3. Aaron Cormican
4. Robbie McCormick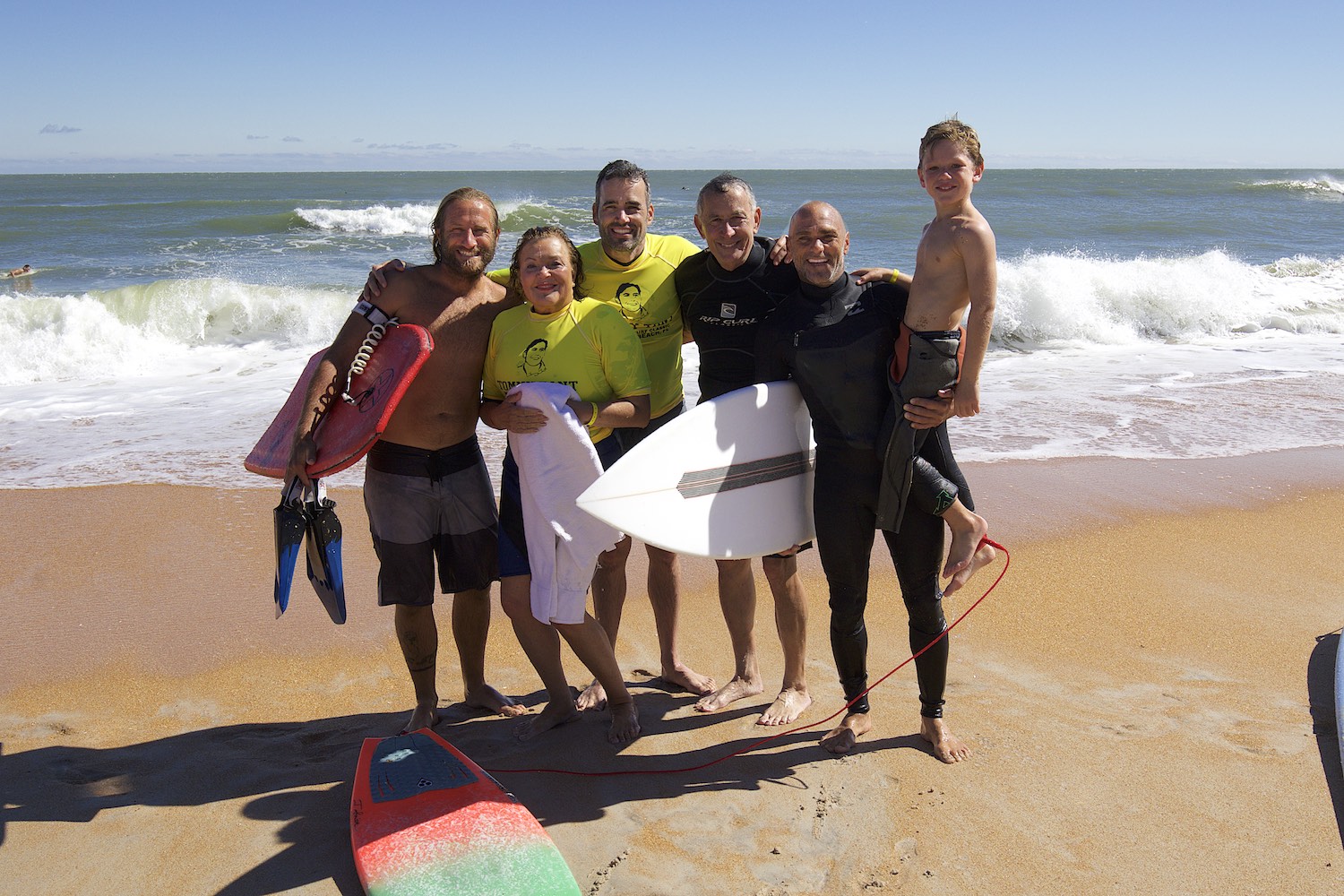 ( l-r ) Eric Worley, Barbara, Will and Tom Tant with Jimmy Blumenfeld and son. Photo: Mez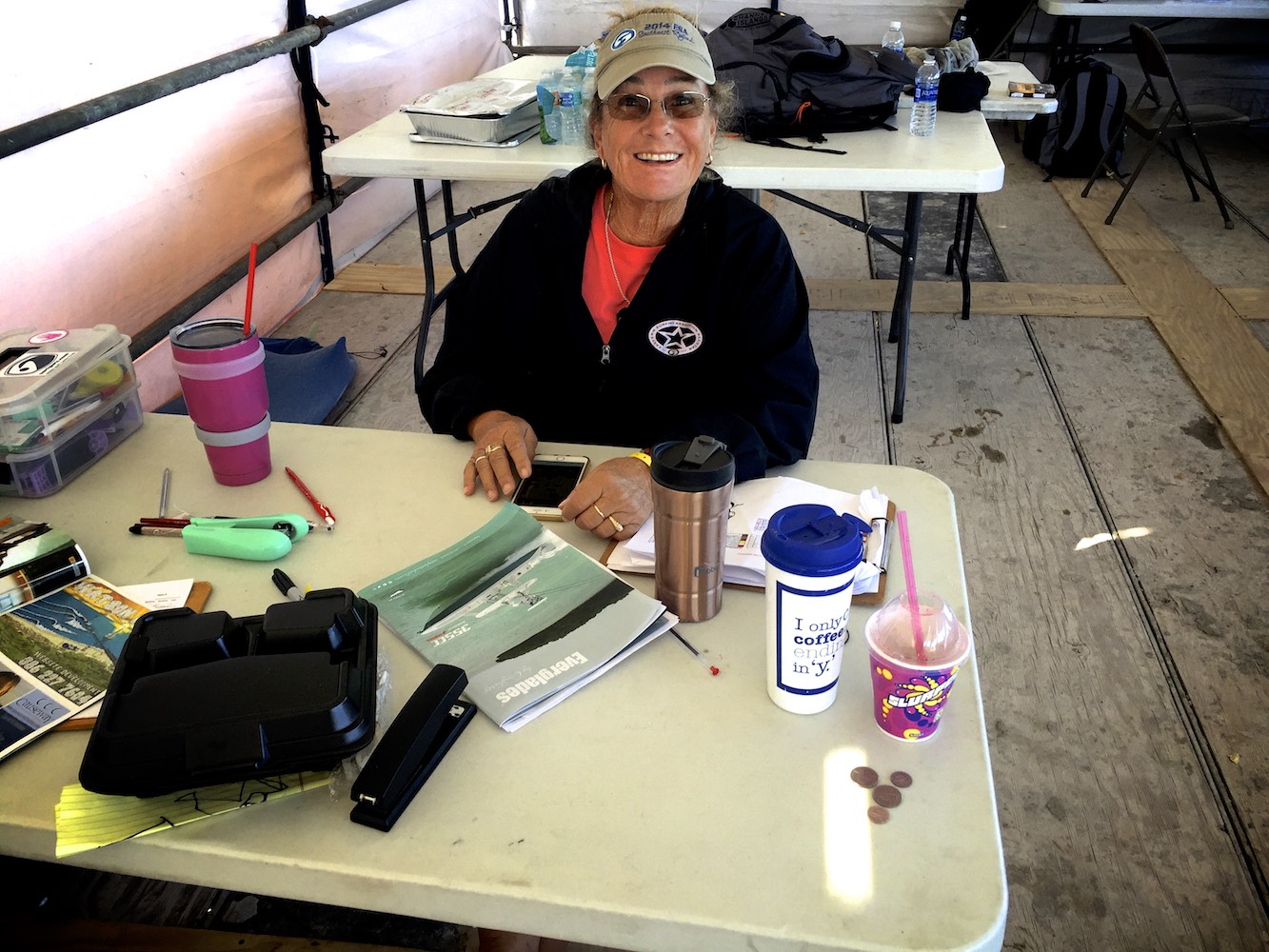 Keeping tabs and the upper deck moving in the right direction East Coast Surfing Hall Of Fame Class of 2016 and ESA All Star For Life, Pam Hill. Photo: Mez