On May 4-7, the Vans Joel Tudor Duct Tape Invitational kicks off the summer in a brand new location hosted in partnership with the cherished Mexi Log Fest in Saladita, Mexico. In celebration of longboarding, art, music and sustainable lifestyle, the Duct Tape Invitational shares Mexi Log Fest's inspiring philosophy to honor authenticity and creativity in the international surf community.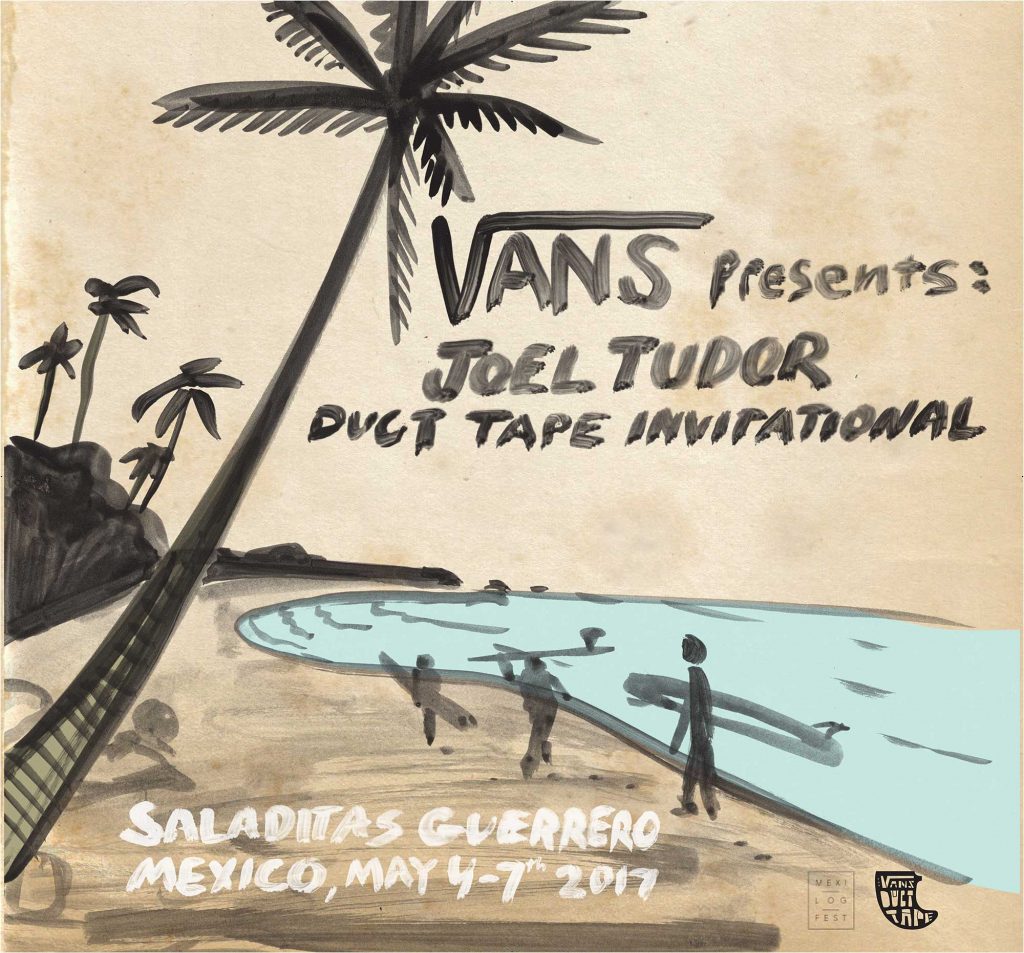 Contest director and surf icon Joel Tudor returns to the helm, leading 16 of the world's most innovative longboarders to the sea, encouraging style, originality, and camaraderie for the 14th edition of the international surf series. Fortuitously held on the festive weekend of Cinco de Mayo, the Duct Tape Invitational will span a 2-day window at Playa La Saladita in Guerrero, Mexico, with a total prize purse of $24,000USD up for grabs. Duct Tape veterans and modern-day log masters Alex Knost, Justin Quintal, Ryan Burch, Kassia Meador and more, will be in attendance, promising a diverse showcase of surfing talent.
Strict guidelines will enforce the use of traditional, single-fin logs without modern attachments and no interference allowed. Additional points are awarded for best shared wave, encouraging surfers to ride the same wave with style and creativity.
2017 Duct Tape Invitational Invitees
Alex Knost
Ryan Burch
Justin Quintal
Troy Mothershead
Tyler Warren
Johnny Pitzer
Sam Crookshanks
Grant Noble
CJ Nelson
Nathan Strom
Kai Ellice-Flint
Tommy Witt
Andy Nieblas
Kassia Meador
Nick Melanson
+ Wildcard TBA
The Vans Joel Tudor Duct Tape Invitational in Saladita, Mexico marks the 14th event in the international Duct Tape contest series, reinforcing a global platform for longboarding specialty and providing a unique festival atmosphere for today's most progressive longboarding icons.
Since 2010, the Vans Joel Tudor Duct Tape Invitational has set a standard for the longboarding community, enriching competition with an affinity for style and originality. The Vans Duct Tape Invitational contest series is anchored by the vision of two-time world longboarding champion Joel Tudor, to create an innovative surf series that upholds progression, creativity and craftsmanship in and out of the water.
@vanssurf
#ducttapeinvitational
About Vans
Vans®, a VF Corporation (NYSE: VFC) brand, is the original action sports footwear, apparel and accessories brand. Vansauthentic collections are sold globally in more than 75 countries through a network of subsidiaries, distributors and international offices. Vans also owns and operates nearly 600 retail locations around the world. The Vans brand promotes the action sports lifestyle, youth culture and creative self-expression through the support of athletes, musicians and artists and through progressive events and platforms such as the Vans Triple Crown of Surfing®, the Vans U.S. Open of Surfing, Vans Pool Party, Vans Custom Culture, Vans Warped Tour®, and Vans' cultural hub and international music venue, the House of Vans.
Vans, "Off The Wall" Since '66

www.vans.com
youtube.com/vans
instagram.com/vans
facebook.com/vans
twitter.com/vans_66
vans.tumblr.com
Tags: duct tape invitational, joel tudor, justin quintal, mexi log fest, vans