Eastern Surf Magazine and www.easternsurf.com sends out heartfelt condolences on the passing over the weekend of surfing legend Ron Heavyside owner of Nomad, Florida's oldest running surf shop now in it's 50'th year located in Briny Breezes and the longtime board builder of the similarly named label.
Ronald Richard Heavyside was born in Montreal, moved to Los Angeles at 2, and arrived in Ocean Ridge, Florida, in 1962 just turning 14 and then eventually going on to found a legendary east coast board manufacturing institution and a small, exceptionally vibrant local retail empire with true community spirit like all great surf shops.
When Heavyside began crafting boards in earnest out in the unforgettably named Hypoluxo Road  industrial complex he and his friends dubbed them with the unequally unforgettable name "Nomad"  because the name perfectly captured the Endless Summer ethos of the tribes of  surfers in the mid-to-late 60's and 70's who were wandering the Seven Sea's in search of the perfect wave.
In an e-mail and phone conversation today with Eastern Surf, longtime friend and surfing buddy, Tom Warnke, Executive Director of the Palm Beach County Surfing History Project for the Florida Surfing Museum had this to say:
"My old friend and high school classmate, Ron Heavyside passed on today.  Ron was 69 years old.  He was nominated and hopefully will be inducted into the East Coast Surfing Hall of Fame at the next induction ceremony in 2020. "
Continues Warnke, "Ron started shaping surfboards in 1964 and was still shaping until his passing.  Just last week Ron was in better health than at any time in the past few years, joking with friends and reminiscing about his days pioneering the sport of surfing in Florida. Two days ago Ron was admitted to the hospital with stomach pain, and the exact cause of his passing is not known. It is a sad day for all of us, and we send strength and sympathy to his family"
Truer words were never spoken and www.easternsurf.com will be posting a more in depth look at this influential, pioneering retail / surfboard builder tomorrow.
To Mr. Heavyside's immediate family – and the incalculably larger, extended Nomad surf shop and Nomad surfboard building family – we are truly sorry for you loss. – Mez –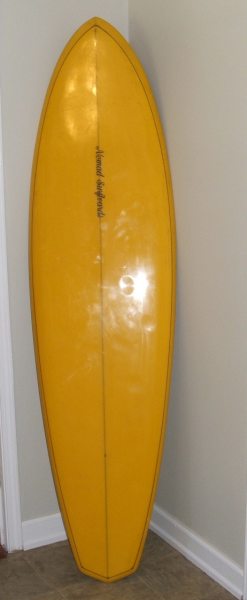 A classic Nomad diamond tail. Photo: Courtesy Swaylocks / swaylocks.com