Personal Subscriptions
Eastern Surf Magazine is published 8 times annually — that's one issue every six weeks. ESM delivers the highest quality photos and editorial to legions of diehard waveriders — and now you can get ESM delivered right to your doorstep!
One-year personal subscriptions are available for $20. (ONE issue every six weeks) US only. Contact trish@easternsurf.com for overseas subscriptions. You can order your personal subscription now by using a credit card through PayPal. Or mail a check to: Eastern Surf Magazine, P.O. Box 33575, Indialantic, FL, 32903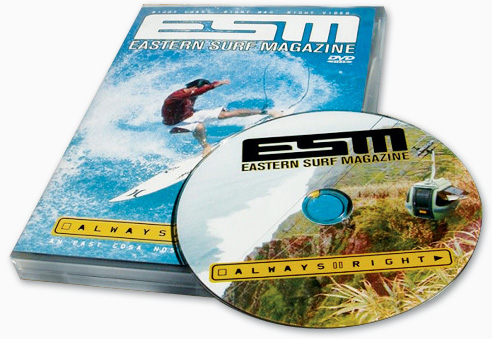 Limited Time Offer!
For an additional $5, add ESM's 'Always Right' DVD to your personal subscription and enjoy our first full-length film project!
Shop & Business Subscriptions
Since 1991, Eastern Surf Magazine has proven time and again that the ESM brand stands for the highest quality in-depth journalism both in the written and photographic realm. We are the most trusted and widely read publication for East Coast coverage on the market. Eight times a year, every six weeks, ESM can deliver a minimum of 50 (FREE magazines for your customers) — that's 400 mags a year. We will also market your shop on our online Dealers List, with appropriate links back to your website! Subscription rates simply help to incur part of the shipping costs. ESM is not profiting on the rates. Our goal is to support you getting customers into your shop!
To carry a box of the hottest All East Coast magazine in your store, contact our Business Manager Trish Dugan at (321) 729-6121 or fill out the form below and you will be contacted for rates in your area.