Magazine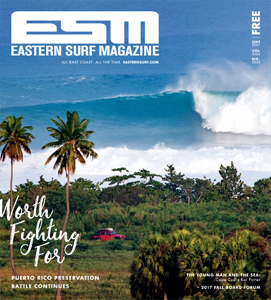 Current Issue: September 2017
Volume 26 | Issue 203 | Green Issue
---
Recently, uncertainty has plagued Puerto Rico. A crushing $74 billion debt and $50 billion pension obligation has hobbled the island's economy. The poverty rate, meanwhile, hovers around 45%, causing many young residents to leave for more stable wages on the US mainland. Just last month, an unelected, federally appointed financial oversight board ordered a two-day-per-month work furlough for Puerto Rico's government employees, which could inflict an additional $300 million blow on the already struggling workforce. The island's main provider of water and sewer services has also lost the ability to borrow money, leading to a halt on construction of pipes, filtration systems, and other water infrastructure projects. According to Bloomberg BNA, "This may already be impacting the safety of drinking water for [Puerto Rico's] 3.4 million residents: the credit problems have coincided with an increase in water quality violations, according to EPA enforcement data."
In a sign of political turmoil to come, Governor Ricardo Rossello has defiantly protested the financial oversight board's decisions, less than two months after ordering a non-binding vote on statehood for Puerto Rico. Although 97% of votes were in favor of becoming the United States' 51st state, only 23% of Puerto Rico's eligible voters cast a ballot. When a similar statehood vote was held in 2012, turnout was 77.5%, which most political experts take to mean that Puerto Rico's citizens are increasingly tuning out from such concerns, which would make it difficult for the island's political representatives to convince the United States Congress to make the unprecedented decision to admit another state.
Among all of this, surfers and environmentalists in Puerto Rico are fighting what to them is a much more urgent battle: preventing the development of a mega-resort on pristine land on the island's northwest corner, where some of the best waves in the world unload in crystal clear water over untouched coral reef. If you've seen a timeless view like the one captured by Steve Fitzpatrick for our September 2017 issue cover, you know that such a stretch of coastline is worth fighting for in the face of those eager to exploit Puerto Rico's economic troubles for financial gain. Turn to Page 22 for more from author Matthew Shaw.
Also this issue, we have an intensely personal essay from Cape Cod, MA's, Kai Potter, who we originally wanted to feature in our August Who Da Guy issue. Kai's words were much too moving to try and edit down, however, leading us to hold Kai's insight into cultivating a connection to both land and sea over and devote significant page space to it. The balance between the personal (Kai's essay) and the political (Puerto Rico) felt just right for this issue, which transitions us out of summer and into fall, with hurricane swells and cold fronts and changing colors ahead. Hope you enjoy the ride…
---
Coming Next Issue:
Fall Issue & Wetsuit Buyer's Guide.
Advertiser Art & Money Due: August 30, 2017
In shops: October 4, 2017
---