Magazine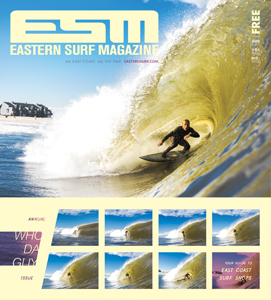 Current Issue: August 2017
Volume 26 | Issue 202 | Who Da Guy Issue
---
New Jersey's blue-collar history goes back hundreds of years. In the 1830s, hard-working Paterson residents harnessed the power of the Passaic River's Great Falls to kick off the United States' Industrial Revolution. Oceangoing steamboats, canal systems, and iron railroad lines followed, and in the late 1800s, Thomas Edison revolutionized modern life from his Menlo Park laboratory. Shipyards, chemical plants, and the modern bridge-and-tunnel system all thrived in New Jersey in the 20th century, with heavy industry employing a huge chunk of the state's population before, during, and after both World Wars.
When surfing took off on the Jersey Shore in the 1950s and '60s, that scrappy, excel-at-all-costs mentality shifted east to the beaches from Cape May to Sandy Hook. And today, it's passed down to young surfers like 16-year-old Jude Clark through a solidified surfing hierarchy that's still stronger than many evolving East Coast locales. So even though Jude has grown up understanding his place in the Garden State pecking order, when he caught the wave featured on the cover of our August Who Da Guy Issue at Manasquan Inlet on Mother's Day, the accolades poured in from photographers like Ryan Mack, who shot the cover sequence from the water, and Mez, who captured it from the beach (flip to Page 20 for that full sequence, which kicks off our 2017 Who Da Guy/Girl feature).
Check that composed takeoff. That relaxed exit. And the deep, deep frames in between. Jude Clark might not be old enough to vote or drink or go to war, but by catching this wave on this day in front of a discerning crowd, Jude has officially joined the upper echelon of New Jersey surfers. We knew it was just a matter of time — but we're still stoked to celebrate it, along with celebrating the other 13 East Coast surfers whose stories are featured in this issue. Enjoy…
---
Coming Next Issue:
Kai Potter ruminates on the beauty of New England surfing, while we check in on the tangled web of challenges facing Puerto Rico today. Our Fall Board Forum also gets you prepped for the best season of the year on the East Coast.
Advertiser Art & Money Due: July 19, 2017
In shops: August 23, 2017
---