North Carolina garage-rock rabble-rousers The Nude Party have one heck of a 2017 planned: their debut full-length album is scheduled for release this spring, and its irresistible first single, "Water on Mars," dropped in December. This band of Tar Heel heathens, who are famous for (you guessed it) performing in their birthday suits, also kicked off an extensive nationwide tour on December 30th, with forthcoming stops in Wilmington, Richmond, Philly, Asbury Park, New York City, Cambridge, and New Haven, followed by every corner of the Midwest, and up and down the west coast, with more 30 shows packed into 40 days.
As their fresh bio says, "The Nude Party congealed as one unit in the Southern mountain town of Boone, NC in 2013 and gained their namesake very literally. Bonded by isolation, house party debauchery, a religion based on pushing the limits of bad taste, and a precocious predisposition towards the Kinks, the Animals and the Velvets, they have burgeoned into a rock 'n' roll act to be reckoned with. As the hysteria at their local shows steadily increases, so does their reputation with local law enforcement, forcing them daily more to seek employment anywhere but home. While snooping cops seeking to stamp out indiscriminate behavior scour the borders of their homestead The Nude Ranch, the group has prodigally exiled themselves and are staying scarce with a string of self-booked tours and one night stands which have linked them up with the likes of The Growlers, The Oblivians, La Luz, Night Beats, and King Gizzard and The Lizard Wizard."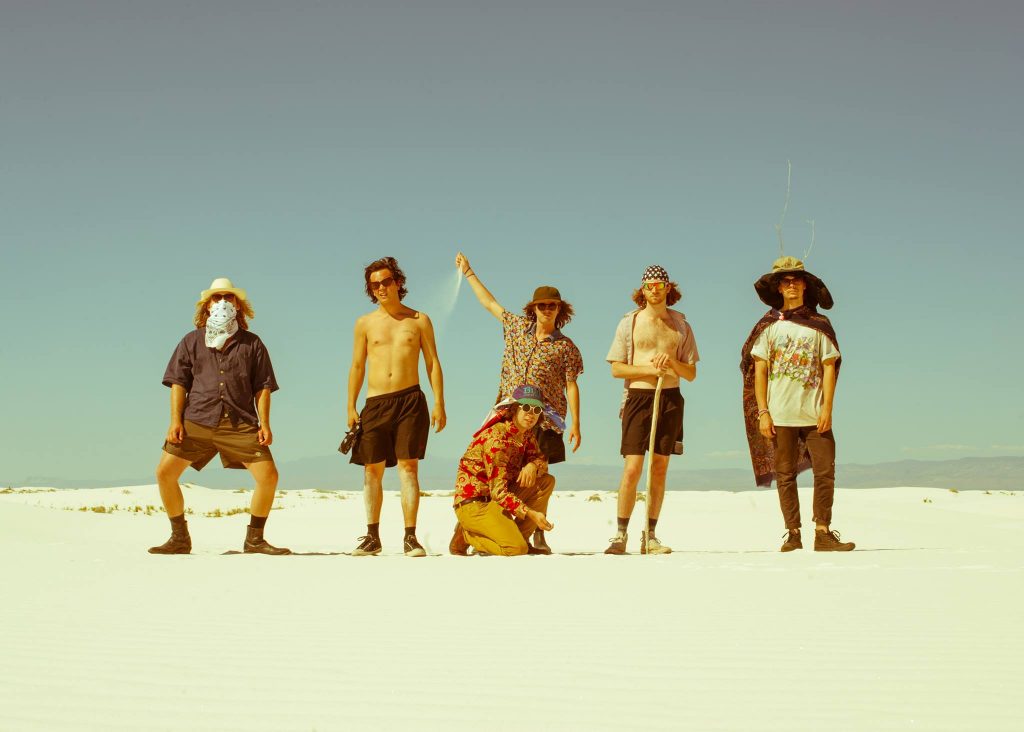 "Their stripped-down and bare-bones sound, akin to the British Invasion being transplanted back into the Carolina mountains, has so far proven to have been unrecordable… until now. The secret? Sticking to the obvious and going down into a sweaty basement with a few mics, fewer clothes, and a revolving door of comrades and goddesses falling by for as long as they can take the heat. Lately, the Nudes have even gotten good at playing with their clothes on. However, if any audience member feels the need to participate in the spirit of exhibitionism, the stakes at the Party will unblinkingly be called and raised."
Check The Nude Party's tour dates and stream their Hot Tub EP below, then read our 2016 interview with The Nude Party, conducted just after they provided the hell-raising soundtrack to ESM's 25th Anniversary Party sponsored by Sun Bum.
January 2nd @ Reggie's 42nd Street Tavern in Wilmington, NC
January 3rd @ Strange Matter in Richmond, VA
January 4th @ Kung Fu Necktie in Philadelphia, PA
January 5th @ The Saint in Asbury Park, NJ
January 6th w/ Gymshorts @ Berlin in Manhattan
January 7th w/ Mystery Lights @ Baby's All Right in Brooklyn
January 8th @ Atwoods Tavern in Cambridge, MA
January 9th @ Café Nine in New Haven, CT
January 10th @ Beachland Ballroom Tavern in Cleveland, OH
January 11th @ Lo & Behold Records in Detroit, MI
January 12th @ Empty Bottle in Chicago, IL
January 13th @ State Street Pub in Indianapolis, IN 
January 14th w/ Andy Gabbard @ Motr Pub in Cincinnati, OH
January 15th @ Sink Hole in St Louis, MO
January 16th @ Cactus Club in Milwaukee, WI
January 17th @ Vaudeville Mews in Des Moines, IA
January 18th @ Riot Room in Kansas City, MO
January 19th in Springfield, MO
January 20th @ Replay Lounge in Lawrence, KS 
January 21st @ Hi Dive Denver in Denver, CO
January 23rd @ Urban Lounge in Salt Lake City, UT
January 24th @ Neurolux's Radio Boise Tuesday in Boise, ID
January 25th @ Sunset Lounge in Seattle, WA
January 26th @ The Fixin in Portland, OR
January 31st @ The Kockout in San Francisco, CA
February 3rd @ The Wayfarer in Costa Mesa, CA
February 8th @ Club Congress in Tucson, AZ
And our 2016 interview with The Nude Party:
Start with Boone, NC, band The Nude Party's name and you get a pretty good idea of where these six gentlemen stand: hell-raising garage rock with energy to burn and a raucous, fun-first attitude that has turned their live shows can't-miss spectacles. But there's more at work here — particularly a solid ear for melody, an adept ability to layer riffs on top of each other, and enough instrumental variety thanks to keyboards and percussion supplementing the usual guitar/drums/bass to keep even the most discerning music fan happy. Believe it or not, all of that has developed organically since the band first picked up their instruments three years ago.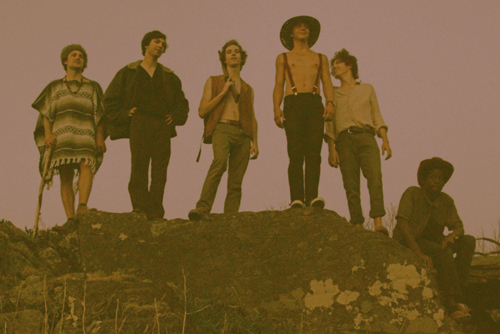 ESM: First off, give us everyone's names and instruments played.
The Nude Party: Connor Mikita – Drums, Alec Castillo – Bass Guitar, Shaun Couture – Guitar, Patton Magee – Vocals/guitar, Austin Brose – Percussion, Zachary Merrill – Keyboard
ESM: How and when did The Nude Party first form? Are you guys all from North Carolina in general or Boone/Western North Carolina more specifically?
The Nude Party: We formed about three years ago. Most of us are from NC and have been good friends since high school, but the idea of playing music wasn't really a thing until Alec's parents lake house became vacant and we all basically moved into it. We eventually just bought instruments on a whim assuming we might be able to play them. We'd throw parties that generally were just a bunch of dudes naked that escalated into drunken jamming. That was pretty much every night of that summer so when we all moved into a house together up in Boone it continued.
ESM: Were you guys all in other bands before The Nude Party? If so, were they the same artistic/creative/musical vein as the current band?
The Nude Party: Shaun and Patton were the only members that had any music experience before The Nude Party. Shaun's old band Carson was on American Idol, that's worth a Youtube search. The music they played was definitely way different than what we play now. A few years ago some of us recorded under the alias of an R&B star called Cheech Pow Pow. It was a short-lived passion project.
ESM: Did you guys have a particular sound or vibe in mind when you started The Nude Party, or has a specific creative/artistic goal come more into focus over the years you've been performing?
The Nude Party: We didn't really have any idea what we were going to sound like, especially because we could barely play instruments for the most part. Our first songs were ridiculously simplistic and repetitive. I think we've grown as musicians and have been exposed to a lot more music since our beginnings. We still really like rock music from the 60s but our tastes are all over the board. We're going to write a country record some day. We still write really simple music that's repetitive but that's how many of our favorite songs are so there might be something to figuring out how to do that well. We will definitely never put out a prog rock record or play jazz.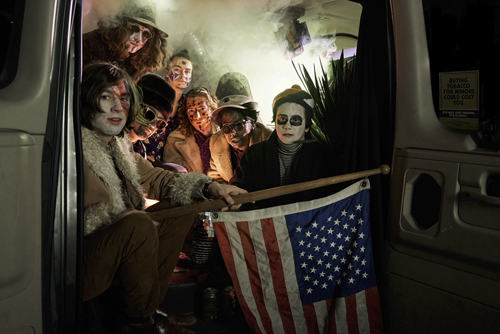 ESM: How important is the live energy of the band, and how long did it take for that to crystallize? I.e., did it take a lot of time and effort to reach the point you're at now, or did it take a lot of adjustments to be able to perform and have such a stage presence as you guys have now?
The Nude Party: Live energy is crucial to any band, especially with rock and roll music. Our first shows were house parties in basements, which pretty much demands loud and raw entertainment. Those basements were certainly our training ground and probably the wildest and most fun shows we ever played. I think really now the goal is trying to bring that kind of energy to a stage where were not naked playing to a bunch of our crazy friends.
ESM: Where did the term "boner pop" come from, and do you guys still think it's accurate? Or has it become too easy of a description for writers and interviewers like me to use?
The Nude Party: Honestly it was never a term we associated with music. A boner pop is just flexing your boner in mesh shorts so that your penis raises without using your hands. It's pretty exciting to see in person. I'm not sure when it became something associated with our sound but it did and we think it's funny. I guess if you make up a genre you can be more specific than using some of the genre buzzwords that float around. Otherwise we might be labeled as psych surf garage punk indie lo-fi music, which doesn't really mean anything at the end of the day.
ESM: You guys have self-recorded and self-released your two EPs. Has that experience been 100% positive, or are there limitations to the approach that you hope to overcome in the future?
The Nude Party: There's definitely limitations with doing anything yourself but it's better that we've done it that way. Going to a real studio requires a lot more attention to detail and money than just going down to a basement and banging them out in a weekend. It's a more organic process that way but recording six people live in a small basement means sacrificing some quality. We just recorded some new songs in RCA Studio A in Nashville so we kind of went from a basement to one of the nicest studios in the world overnight. I think we could all get used to recording there.
ESM: What have you guys learned opening for bigger garage rock bands like Jacuzzi Boys and The Growlers?
The Nude Party: The Growlers are one of the hardest working bands in the game right now and it shows through their creative output and following. It's inspiring to see people that have put everything into being band and have it pay off. I guess the lesson is to work hard at making good music so that you don't have time to worry about the crippling self-doubt and financial burden of being a musician.
ESM: How about playing a huge festival like SXSW for the first time in March? What was that experience like, and do you think it offered you the kind of networking or "next step" opportunities that so many bands go there for?
The Nude Party: It was definitely eye opening. We basically drove 24 hours to play 3 shows and then 24 hours back home in time to fail our midterms. We got to meet a lot of cool bands and reconnect with some of the bands we've played with on tour in the past, which was nice. I don't think we were ever approached by any shady-looking dudes in suits with promises of money and fame though. One venue almost cut the power off on us because one of us got naked during our set. We almost got to meet the police I guess. We'll be back though and hopefully will be playing more shows to more people.
ESM: Along those lines, are you guys looking to make a major "next step," whatever that might be? Or are you all content having fun, touring when you can, and doing things your own way?
The Nude Party: We'd really like to put out a full-length with a label soon. We've got quite a bit of new material and we'll probably try to record it in an actual studio. We'll inevitably keep touring and doing things our own way in the meantime.
ESM: What's the craziest story you guys have from the road? If that's too hard to decide on, how about the craziest tour story of 2016?
The Nude Party: That is pretty hard to decide on. Most stories will probably have to stay between the band forever but on our very first tour in the summer of 2015 we were in Charleston, SC, with no place to stay. We ended up just getting wasted at an apartment complex pool all night. We all passed out naked on the beach chairs, completely overlooked by the apartments surrounding the pool. The next morning we were woken up by three cops who basically just felt bad for us and told us to leave. We told them we were a country band.
ESM: Why do you think The Nude Party's music resonates so well with surfers and skaters, and does that feel weird at all to you guys since you come from the mountains?
The Nude Party: I think the cultures surrounding music and surfing/skating are very similar. They all relate back to just doing things that make you feel good even though some people would consider it pointless because it's difficult to make money doing any of them. Some of us skate but we all suck as surfing. We got destroyed on some waves during a recent tour through Florida.
ESM: Next big plans for The Nude Party in 2016 and beyond?
The Nude Party: We're going to tour the west coast this year which should be awesome. We'd really like to tour Australia too, or really any country besides the US. One day we hope to own a hot tub too.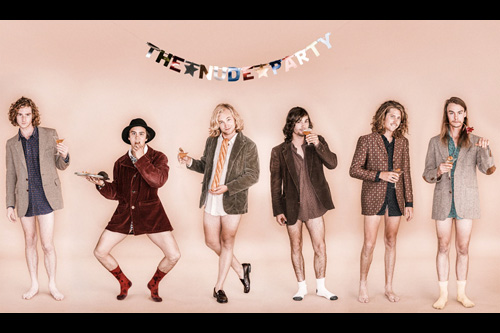 Tags: interview, music, rock n roll, the nude party, tour