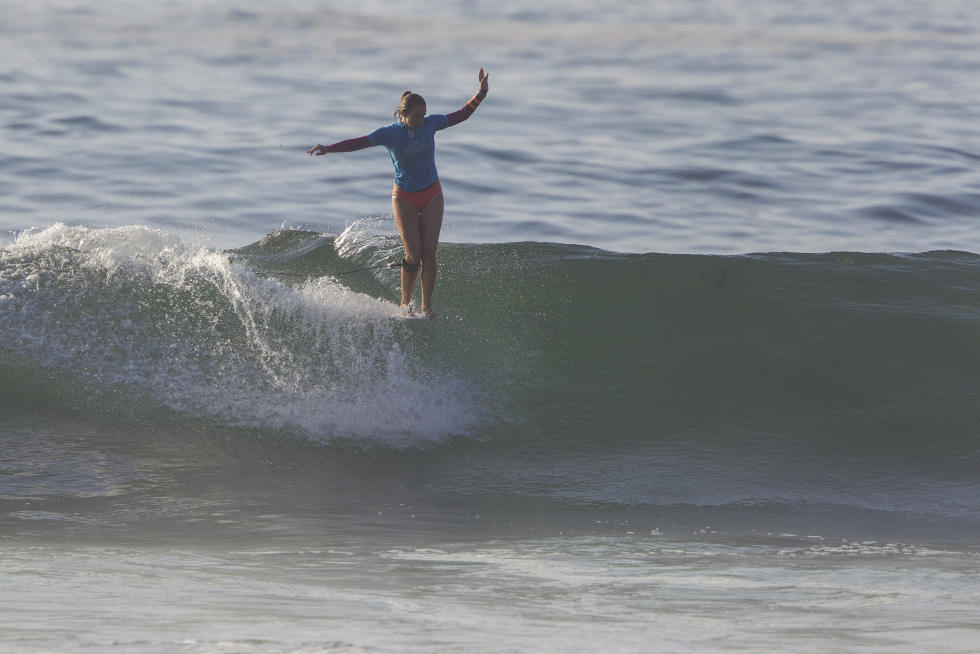 Caption: 2015 WSL Women's Longboard Champion Rachael Tilly (USA) earned a big victory over the in-form Brazilian Chloe Calmon (BRA) at the Pro A Coruna earlier this month.
Image: WSL/ Damien Poullenot
HUNTINGTON BEACH, Calif./USA (Monday, July 18, 2016) – Amidst the summer flurry of events happening in the World Surf League (WSL) North America region Men's and Women's Qualifying Series (QS), defending WSL Longboard World Champion Rachael Tilly (USA) has been busy in Europe and Australia to keep her competitive edge razor sharp. The now 18-year-old recently won the Pro A Coruna title earlier this month in Galicia, Spain, after earning a third-place finish at the Women's Cancer Institute NSW Pro to kick the year off in New South Wales, Aus.
Though these events will not count toward Tilly's North America Longboard rankings, the San Clemente, Calif., native is staying on top of her game and preparing to retain her world title later this year.
"It is important that I am in the water every week and doing as many events as possible — both abroad and local," Tilly said. "Having the proper equipment for all conditions is a must, I want to make sure that each time I paddle out I am on the right board for those conditions. When I am surfing good, I feel ready. As far as mentally, I love to get down time and read and rest my mind from the goals that I have put in front of me. I am all about balance in my life."
Tilly took down her first WSL Longboard World Title on Hainan Island, China, last December — even before earning her high school diploma. With her eyes set on a second title, Tilly's form is a result of her hard work both in and out of the water around the globe. She is putting the time into each detail of her training and will only look for more wins in coming events.
"Now that I've felt what winning a world title is like, I would really like to do it again," Tilly said. "Keeping that in mind keeps me motivated at home and while traveling to put in 100 percent. I just graduated high school in June so my trip to Spain right now is the first without any schoolbooks which allows some time for sightseeing. It's pretty amazing that my passion gives me a gateway to also see the world and various cultures."
"With only one event in our region last year, it puts more pressure to perform well because if you don't there's no opportunities to redeem yourself," Tilly added. "Fortunately, multiple girls who compete on the world tour also travel to these events I compete in for the competitive training aspect, so it offers more realistic practice for the world championships."
One of those competitors is the in-form Chloe Calmon (BRA) who has won two events and earned two second-place finishes — topping Tilly in New South Wales, and earning runner-up behind her in Spain. But, it is through stiff competition such as the Pro A Coruna that really tests her. Tilly needed a score in the remaining minutes of the Final in Spain to earn a victory over Calmon.
"In the jersey, I would love to win another world title," Tilly said. "Back-to-back would be an awesome thing to achieve. I work hard to see that I am prepared for each event I travel to. It is not just how my surfing feels, but how I feel inside. I like to know that each event I show up to I have done my prep work to give it my best shot."
With a good head on her shoulders, Tilly's future is looking bright in her quest to soak in as much culture as she can while travelling abroad following her high school education. With her family right behind her, a second world title is not out of the question for the young American and she will do her best to see it through.
"Preparing for the world championships in December is taking me around the world, so my goal out of the water is to take up as much of the culture and my surroundings while traveling as possible," Tilly said. "After this year-long gap from school for competing and traveling, I plan on going to college to finish my education."
"My family's support is incredibly crucial," Tilly added. "They are very close and involved in my surfing, so we spend lots of time together in and out of the water. Having a close family keeps my mind in the right place when I am traveling. I wouldn't be at this level without them so it is important they stay on this journey with me."
Tilly is now preparing for the Boardmasters, Cornwall event that will take place August 10 – 14 at Fistral Beach, Newquay, in the United Kingdom. For more information, go to www.worldsurfleague.com.